IN THE COMPANY OF ALEX TORDOFF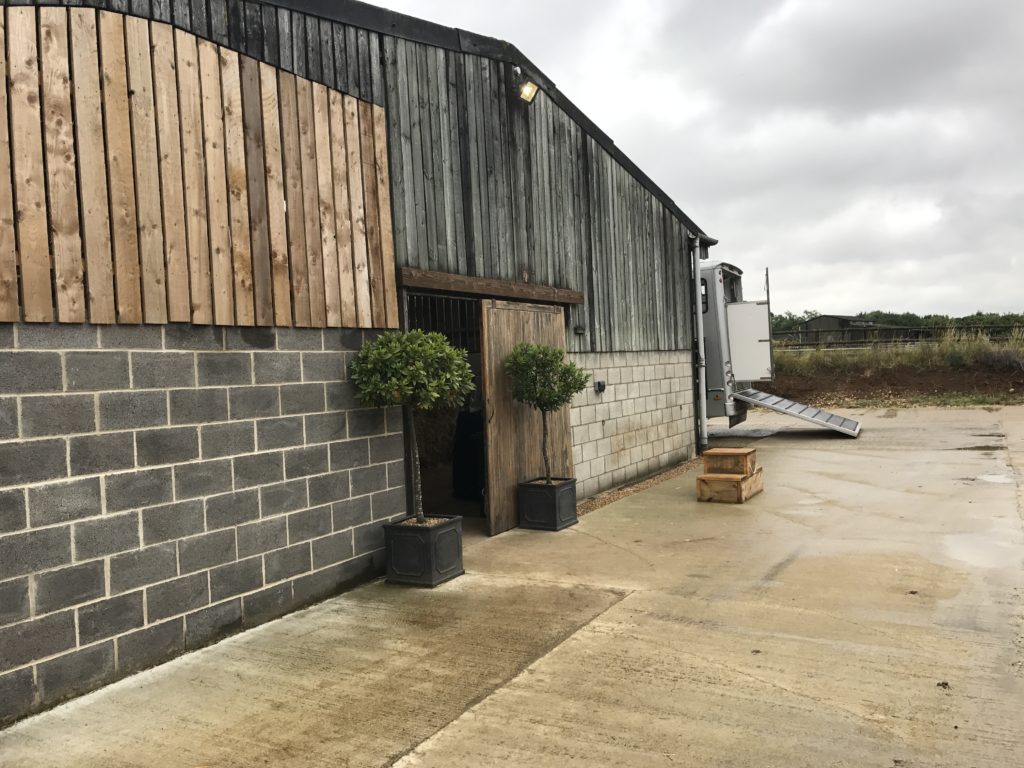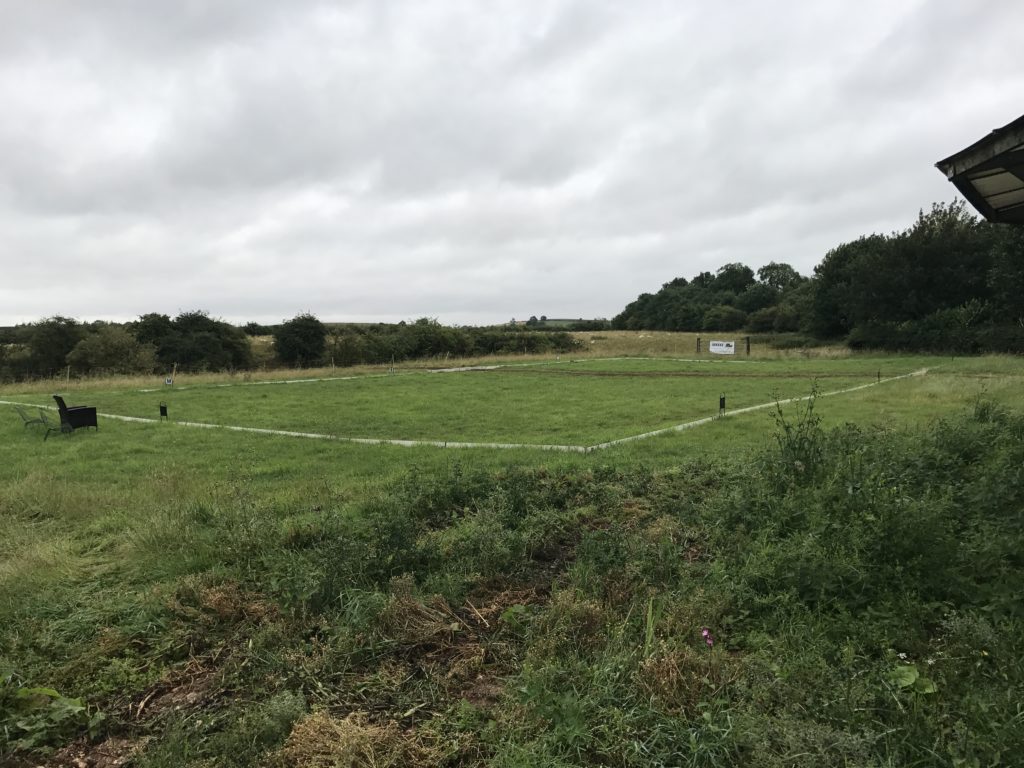 Jumping in my car early on a drizzly, grey Monday morning, you could be forgiven for thinking we were already in October but no, this is July, what is going on? I was going North to Leicestershire to meet with Alex Tordoff at his new yard.
For once sat nav was right, turning into the drive of Hyde Lodge I passed the family home and onto the yard behind, Hyde Lodge Horses. Alex coming out to greet with a big smile on his face, he had had a great weekend with Colin aka Cool Jack becoming his second Advanced horse.
Time for a tour of the yard. It became really clear in the first few minutes that this really is Team Tordoff with the entire family pulling together to build the dream. A year ago, the family sold their beautiful home in a local village replacing it with the new farmhouse, dilapidated barns and 50 acres of land with a lot of work to be done.
Alex and his Dad have gutted and rebuilt the barn to house all of his horses, laying miles of concrete into the bargain, built an outdoor school with fabulous fencing that keeps out the wind and landscaping not to mention new fencing in the paddocks with Dad's carpentry skills in evidence wherever you look.
Turning the corner by the barn is a well placed covered walker bought by Alex's Mum off ebay! I couldn't quite believe it but yes, the walker came from far away and with the help of Monarch was re-erected – what a bargain.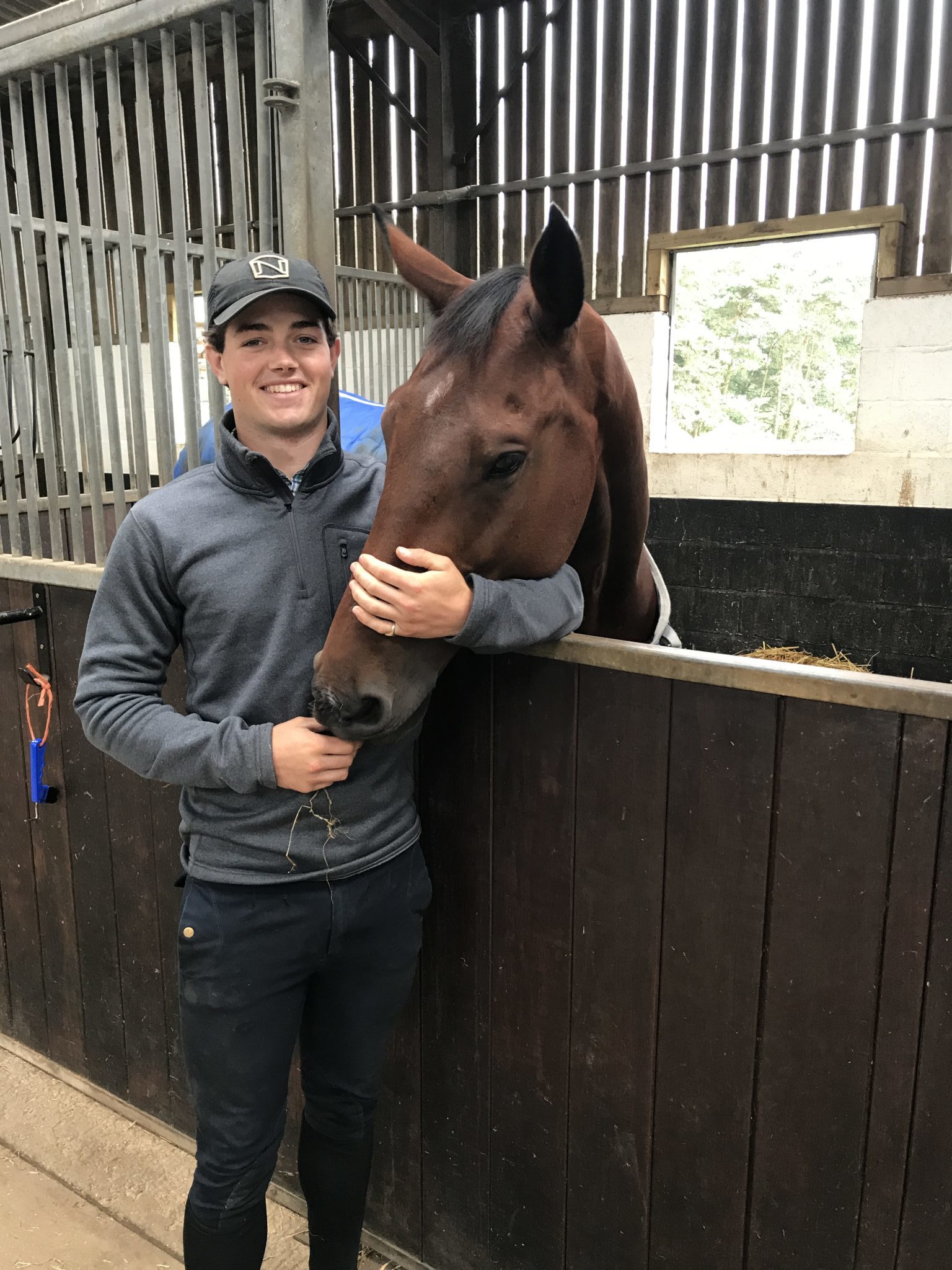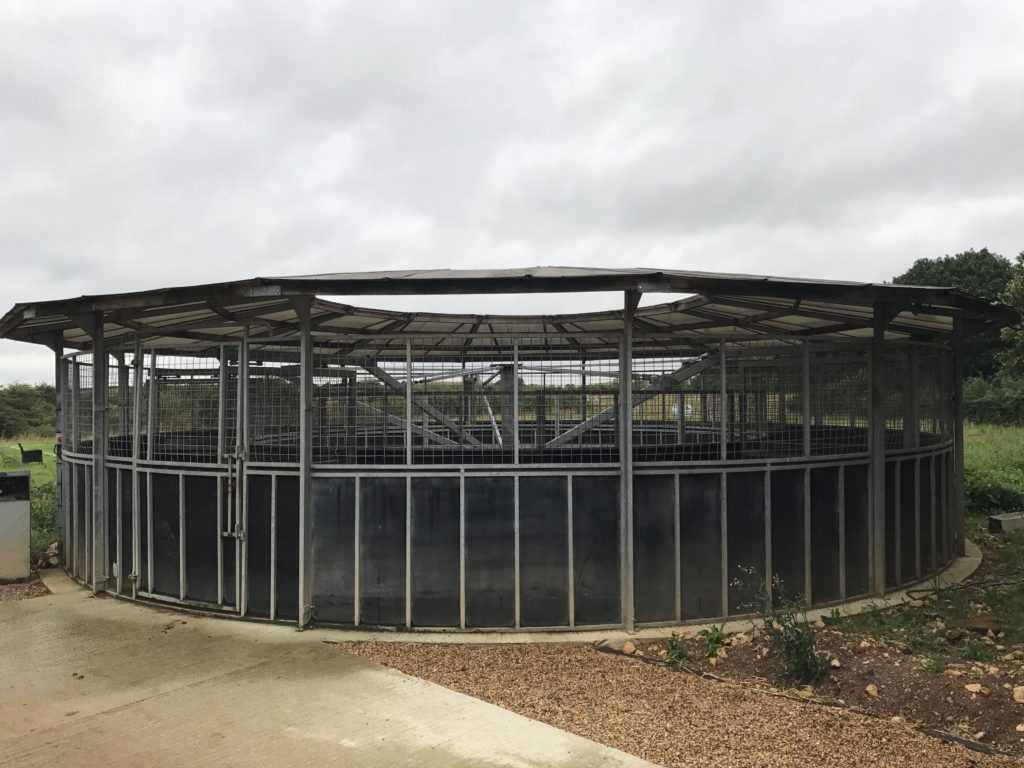 Beyond the walker is Alex's grass dressage school complete with undulations and unlevel surface to resemble the types of surfaces that Eventers have to be able to do dressage on. In the distance are fields full of sheep which is where Alex and his Dad are building his XC schooling tracks, evidence of jumps in the building phase are in the yard.
Alex has vision for this yard, he has big plans and from what I can hear there will be expansion in the future, there is certainly space to accommodate the growth.
The barn itself is light and airy, with boxes running down both sides, feed room and wash box/solarium at one end with a cosy warm tack room at the opposite end and a posh lounge for relaxing and visiting owners.
Here I got to meet most of Alex's horses. Colin (Cool Jack), Dusty (Dustman) and Chapers (Chapman) who are between them looking at Blenheim, Burghley, Mill Street and Brede. Fritz (Forever Noble) at Novice/1* and Daring (Woodlands be Daring) at the beginning of his career at Novice. Then there are the 2 nicely bred babies out in the field unaware of the future they have in store.
The multi-talented Lorna Triggs who looks after Alex, was getting ready to take her own stallion Frank (Playmate III) for a lesson with Caroline Moore. It was lovely to catch-up with her and have a quick chat before she dashed off.
Sitting down in the tack room with a lovely cup of coffee, Alex decided to have a straight tea rather that his favoured melange of cofftea or teoffee, we got down to business.
ALEX'S INTEVIEW ON ORSCANA AND HIS CAREER
Name: Alexander Tordoff
Discipline: Eventing
What has been your greatest achievement in your career so far:

My greatest achievement has to be the Junior National Championships at Brand Hall in Shropshire in 2015. Emill and I led from the start, we hadn't had him for very long, we finished in second place but it was a result that was totally out of the blue, it was a great surprise. I went hoping to do well but we did better than anyone expected us to do. It was a wonderful surprise.
What is your ultimate ambition(s):
For me one of my ultimate ambitions would be to win Burghley that would be my biggest immediate one, maybe because that is my local event and I have been going there as long as I can remember. My main ambition in general is to run a top-class yard with quality horses and a successful business as well as to compete at the highest level. Competitive goals are to represent Great Britain at an Olympics, Tokyo would be nice with the right horse hopefully but there are many more after that…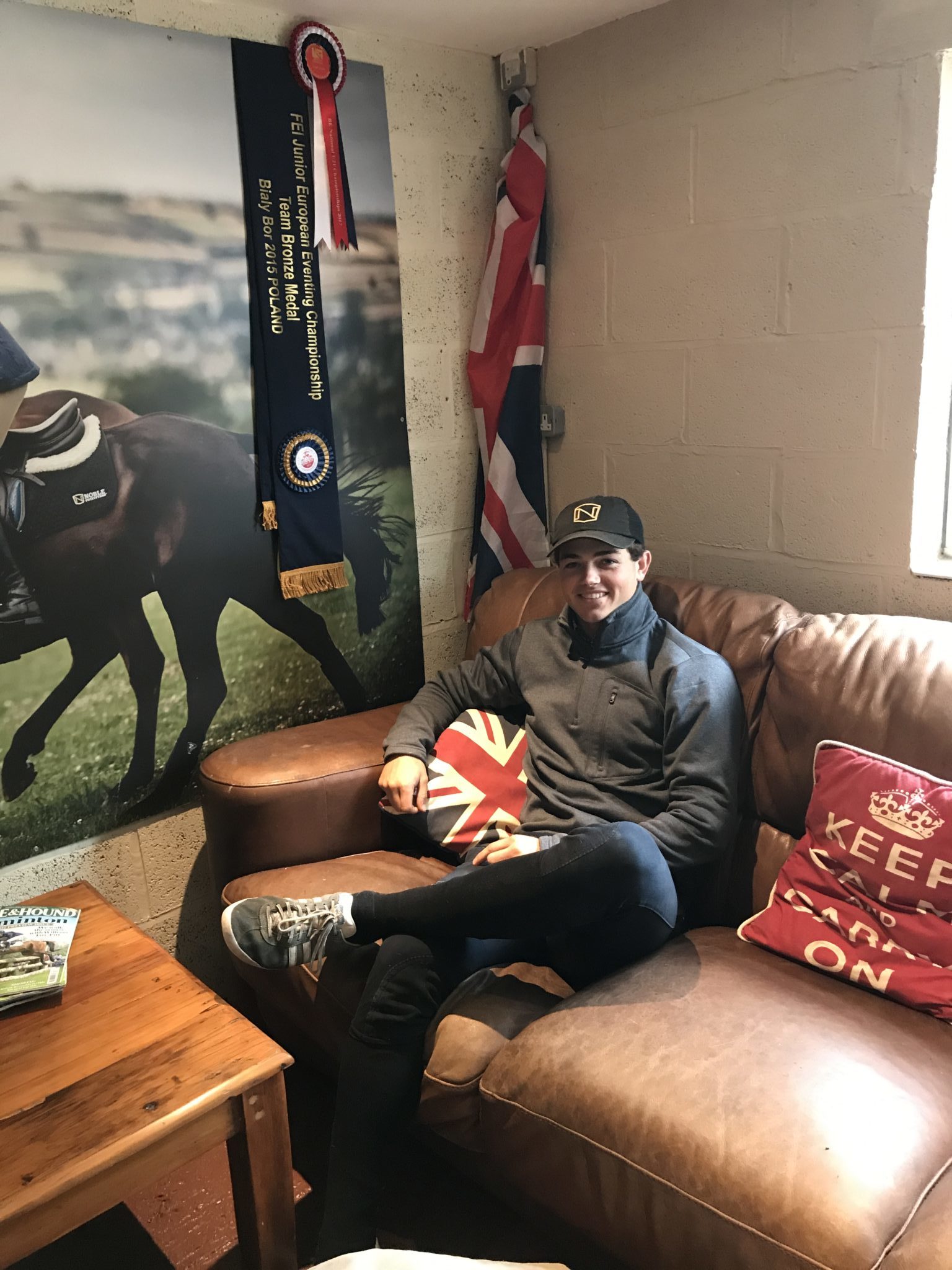 Who was the horse that taught you the most and why:
Definitely Emill.  He was probably one of the most talented horses I have ever ridden but he also wasn't the easiest, he was never going to give you anything for free. You had to work for it, but when you did work and you did push the right buttons he gave you everything and more. If you didn't ride him properly he let you know about it. He absolutely taught me about riding good horses and how to get the best out of a good horse.
What has been your best experience competing:
Has to be the Junior Europeans in Poland, it was my first time over competing a long way from home in a foreign country. It was the first time in a team, my first international competition competing with Emill. It was the first time competing in a proper championship environment, it was all very professional and very high pressure. It was nice to be under proper pressure for the first time and to see how I dealt with it. It was an amazing experience to go that far away to compete and also to do well, I finished 4th as I had a fence down in the show jumping or it would have been Silver but I was the top placed Brit. It was pretty awesome with the Team winning Bronze.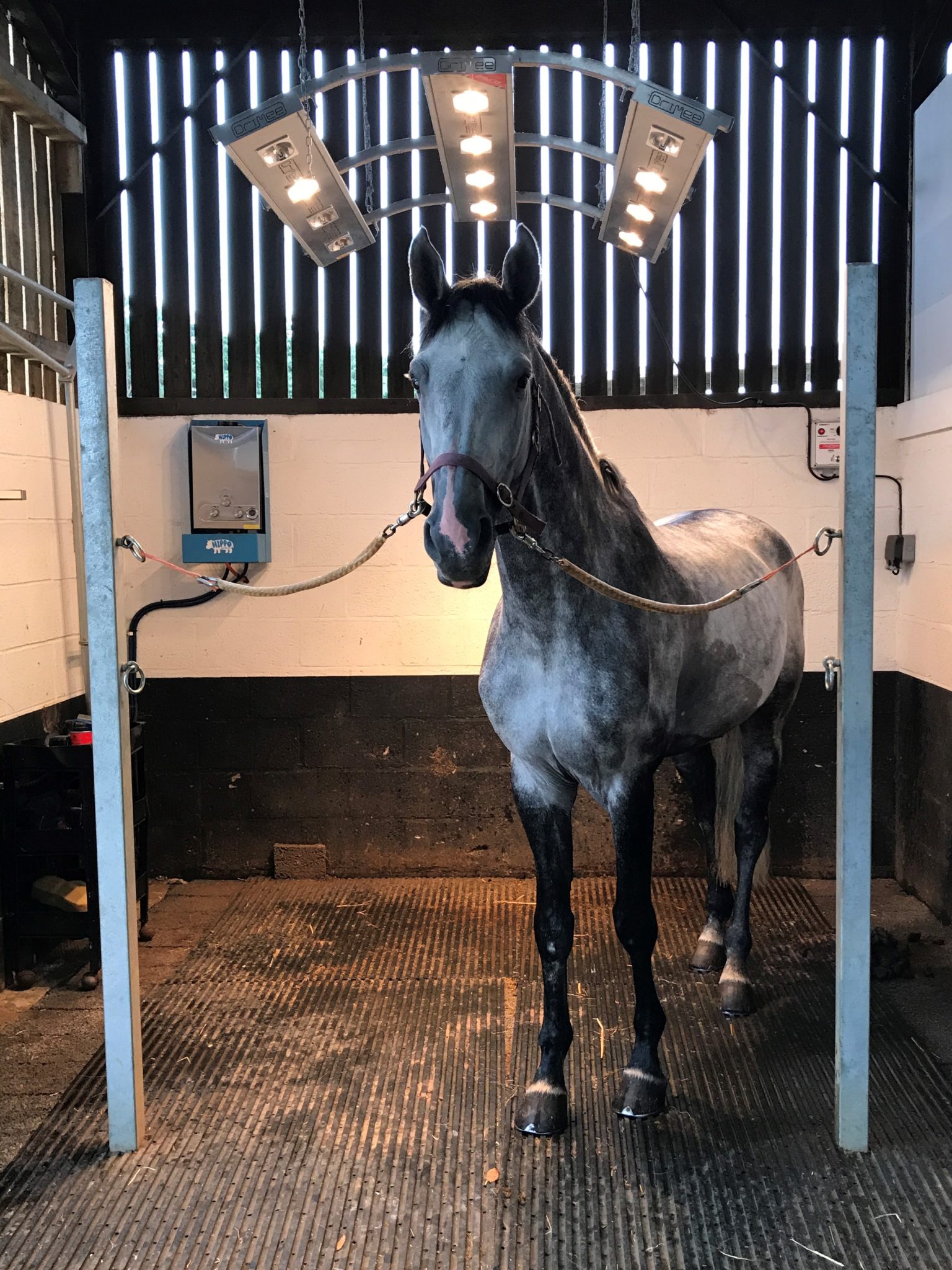 What has been your worst experience competing:
That would also have to be the National Championships at Brand Hall, it has to be the best and the worst, it was the first time to be going into show jumping in the lead, something I never expected. Everyone was watching my round, I was jumping and I didn't have anything in hand I was only a mark in front of the horse in second which was Imperial Cavalier, she jumped clear so I had to go clear. I jumped the entire course the combination, the triple bar and I was coming to the last fence, you could hear people whispering, the tension was building and I was coming to the last fence thinking I am going to do it, I am going to land and be the national champion, imagining the fist pump and whatever.  I just remember getting too close to the last fence and it coming down. It certainly made me learn to respect the last fence a lot more and keep focussed until I am past the finish line.
By a country mile, my most devastating experience, one I try to forget about, it was 2014 and I had had him since a 5-year-old, he was really good actually, it was the Open Novice at Aston, it was the first water and I came into it and ….  yes I just came into it, it was a skinny out of the water and he had a heart attack and fell into the water, I went over the fence and he submerged into the water, he was gone. He died instantly, he had an aneurism of the heart, it was weird and bizarre and made you really appreciate your horse. Going back with an empty horsebox is something you never really think about it makes you realise how special they are, they do a lot for you. I was so young at the time you never think about the possibility of anything going really wrong, you might fall off but you never think about the worst it could be, it wasn't even an Advanced it was a Novice. You learn to appreciate your horses, just how special they are, how much they do for you. It taught me to appreciate, even on a bad day, you might not complete the XC you are lucky to put your horse back on the lorry. At the end of the day as long as you are both OK that is all that matters, people get so tied up with results and winning but really what is special in itself is both of you coming home safe.
Why do you use Orscana?
Accurate Information! Orscana makes the management of my horses, I'd say, far better than most peoples, I can manage my horses how they are, day, night and wherever they happen to be. They are the most comfortable they have ever been which relates directly to performance. My horses have gone the best they have ever gone this year by a million miles.
How do you use Orscana?
All the time on their rugs. It lets me sleep easier at night, I know my horses overnight are going to be fine, I have the best advice from my phone on what to do from a rug management perspective as well as their overnight activity. It makes it easier for me and my grooms. Travelling, just at home or when the weather changes as it is at the moment, it's all over the place, we can do everything to manage the best outcome.
Has Orscana influenced any changes in your routines?
I have discovered that I over rug my horses massively. I always put too many on them as opposed to too few. When I put too many on, I have come down and seen the temperature go up to whatever it did, it shouldn't have done that and actually they are more comfortable with less on. I think it is the same with everyone else, you always think I'll just put another rug on, they'll be warmer. You just don't realise when they are just standing how hot they can get.
Managing and learning, I have learnt a lot about how comfortable they are, I have learnt a lot about what they do at night. Some of my horses are totally different overnight. Some seem really normal during the day but at night they are clearly not, judging by the state of their boxes. I look at my phone in the morning and see which horses did not rest as well. When I am riding them, I am thinking is it different to how it has gone and how it all correlates. Increasing my knowledge of the habits of my horses helps me to get the best out of them.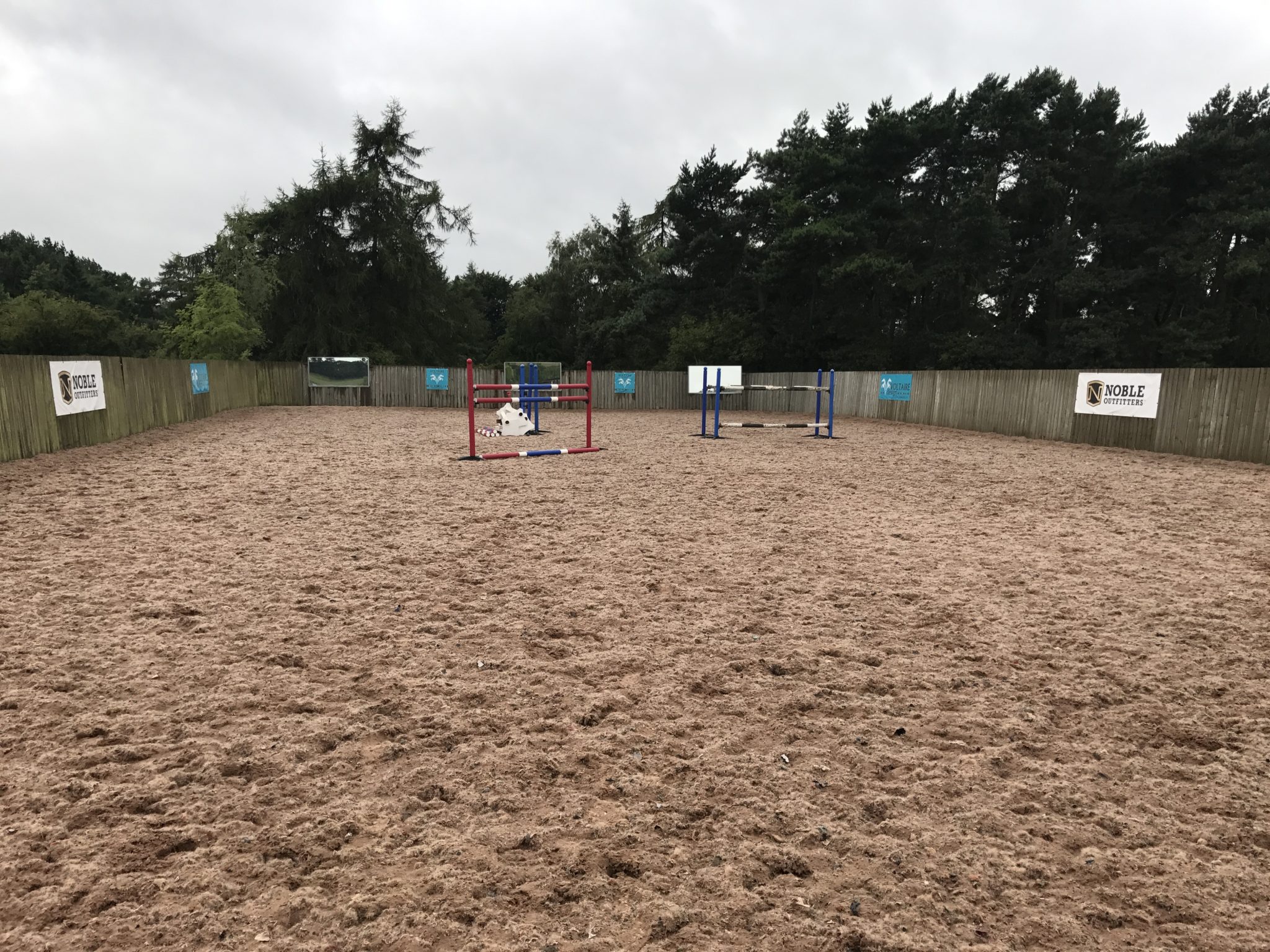 After a delicious lunch at a local eatery, dropping Alex back at the yard his Mum, Kimberley, had returned from work. I was welcomed into her beautiful new kitchen for a freshly brewed cup of coffee (not to mention meeting the cutest Norfolk Terrier puppies and Alex's whippet, Boodle) and a chat.
There is no doubt that this is a tight knit operation, every member of the family contributing and helping Alex to achieve his dreams. With all the hard work and dedication, I have no doubt that Alex will achieve each and every one of them.
All too soon it was time for me to leave and let Alex get out on his beloved horses.