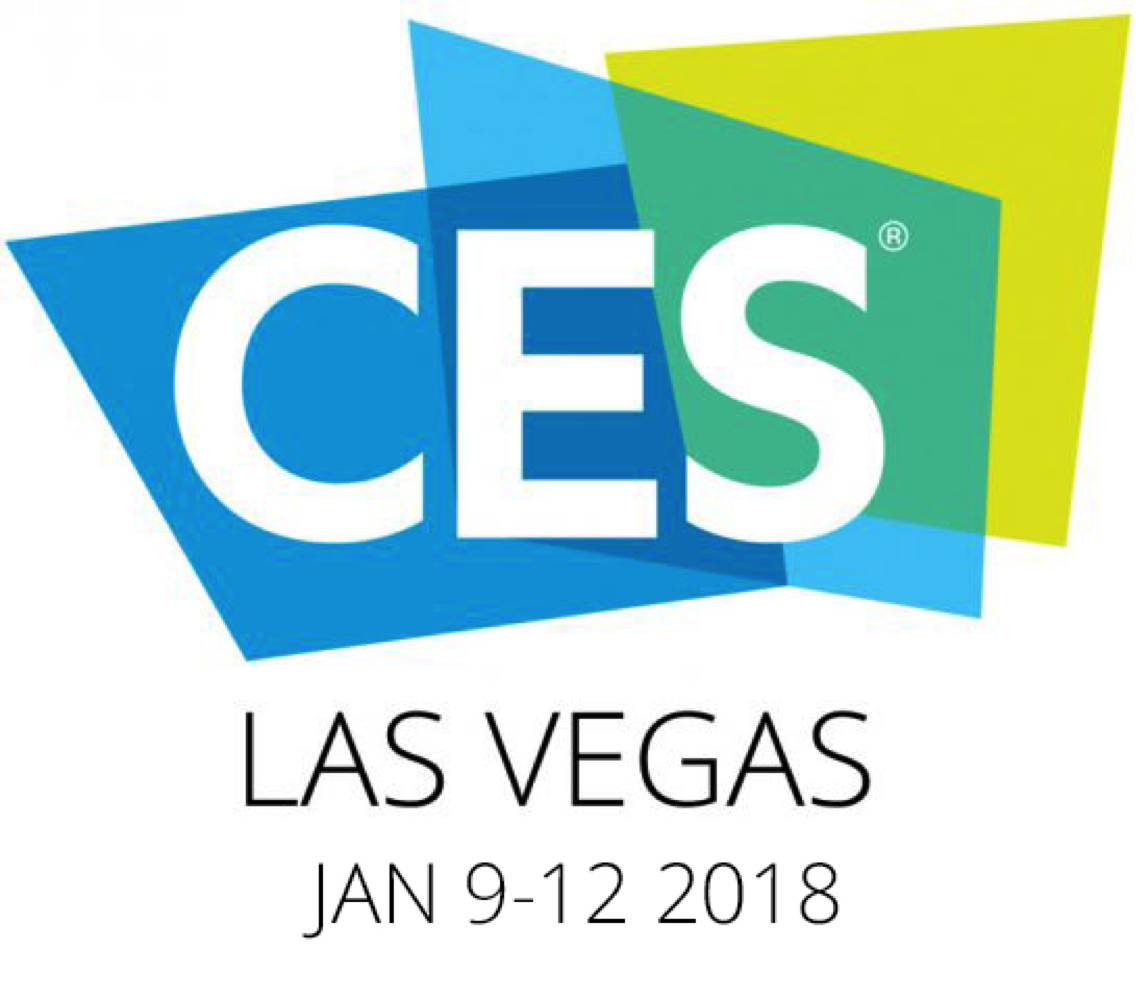 ARIONEO,
THE INNOVATIVE INDEPENDANT FRENCH STARTUP IN EQUESTRIAN SPORTS TECH PRESENTS THE CONNECTED GIRTH, IPULSE by ARIONEO, AT THE CES IN LAS VEGAS 2018.
Following two successful firsts in connected Equestrian Tech, launched in 2015 and 2016, across 16 countries to monitor the comfort and health of all horses, Arioneo, a startup supported by the Parisian incubator Le Tremplin, is launching it's latest innovation: the IPulse® connected girth.
The girth, connected to an application on a mobile, allows riders to follow the physiological performance of their horse. After an initial preview at the Paris Horse Show, it is at the Consumer Electronics Show in Las Vegas in January 2018 that the innovation will be unveiled to the world. 

From January 9 to 12, 2018, Las Vegas turns into a high-tech paradise with the Consumer Electronics Show, the world's largest technology innovation show. France has the third largest representation by country with 275 start-ups and exhibitors. Amongst them, ARIONEO will be in attendance in partnership with the world leader in technical performance saddles, CWD.
Hosting nearly 200,000 trade visitors with around 3,600 exhibitors, the CES Las Vegas launches nearly 20,000 new products each year. Arioneo will be in attendance throughout the event in the CES Sport Marketplace – Booth 45731. 
ARIONEO & CWD
AN R & D COLLABORATION THAT UNITES THEIR COMBINED KNOW-HOW TO THE SERVICE OF THE EQUINE ATHLETE'S PERFORMANCE.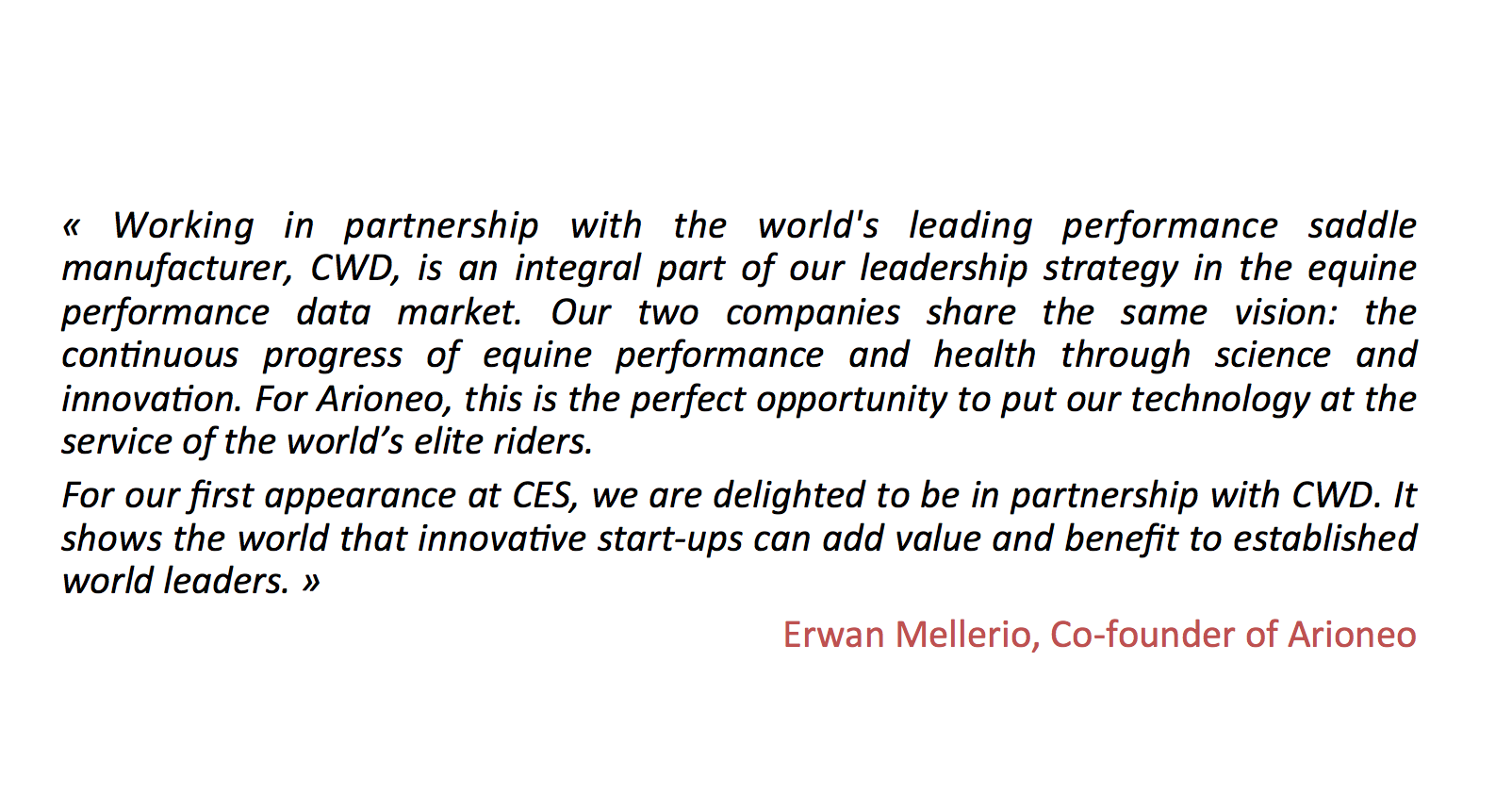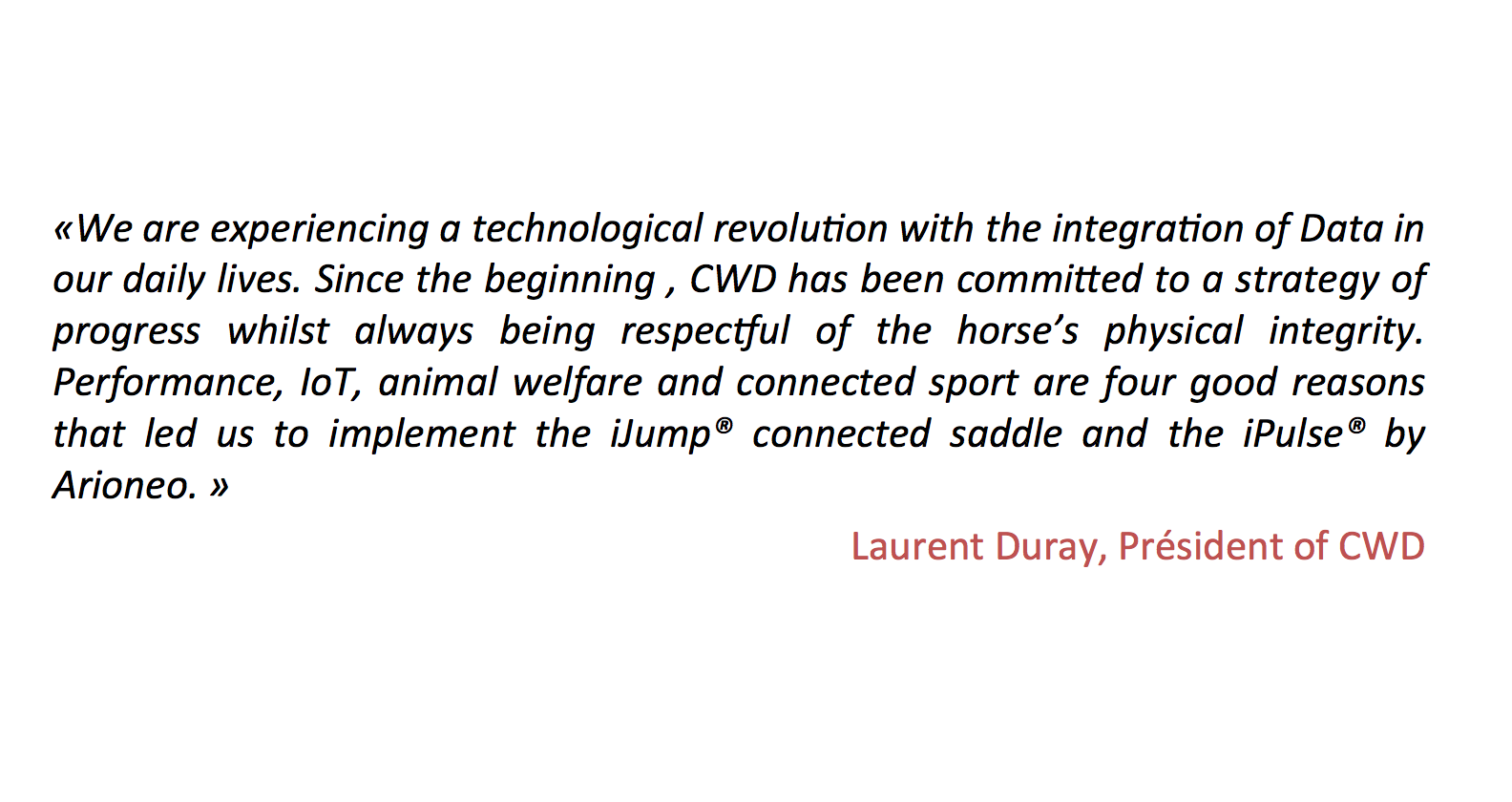 INNOVATION FROM FRANCE
PATENTED ELECTRODES ALLOW THE PHYSIOLOGICAL MONITORING OF THE HORSE DURING EXERCISE.
Historically, the barriers have been acquiring accurate readings of the heart rate due to the horse's coat, sweat and vibration whilst at exercise. In the girth are integrated electrodes that are capable of overcoming the constraints of accurately monitoring cardiac activity whilst performing. The cardiac signal is transmitted to the electronics placed in the girth. Data is then sent via Bluetooth to the iJump® application, which in turn analyzes and synchronizes it with other effort-related measurements, such as speed and locomotion parameters.

Arioneo's mission is to support the Equestrian industry as it moves into the data age. With strong investment in R & D, it is reflective of the company's determination to be a key player in the future of the equestrian world by opening up new avenues and perspectives.