3 categories of questions that trainers ask themselves were mentioned :
Physical preparation: How to improve the physical condition of their horses and reduce the risk of injury?
Potential of each horse: How to develop (individually) horses to reach their maximum potential?
Win: How to be more successful in each race?
IN THIS ARTICLE, WE WILL INTRODUCE OUR ANSWERS TO THE FIRST, DEALING WITH THE PHYSICAL PREPARATION OF THE RACING EQUINE ATHLETE. 
Without a healthy horse population, it is extremely difficult to maintain consistency in monitoring performance and achieving goals.
For any preparation of a high level athlete, measurement is at the heart of performance. Without measure, the impact of training on the physical body can only be analyzed subjectively. Without measurement, the limits are not controlled and the risk of injury is increased.
Contrary to preconceived ideas, technologies like EQUIMETRE are not only for experts in data analysis. EQUIMETRE has been designed to integrate seamlessly into the day-to-day life of trainers, both in terms of set- up, daily use and in the exploitation of the information.
For a first level of analysis, the study of the progress of the athletic condition of each horse is achieved by the comparison of both physiological and physical indicators over a period of time. These indicators can be calculated using simple standardized exercises.
« If you cannot measure it, you cannot improve it »
Peter Drucker
STANDARDIZED EXERCISE AND KEY INDICATORS
For example, the same exercise is repeated monthly by the entire string under similar conditions. The collected data is then analyzed to provide the key indicators that are tracked individually throughout both preparation and the season.
Example of indicators :
Heart rate during training

Physical exertion of the exercise
Quality of recovery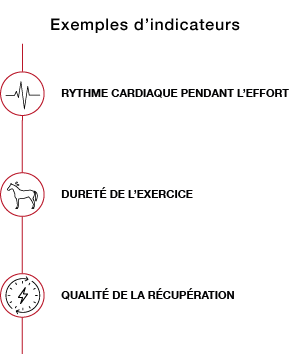 USE OF DATA 
This first level of analysis is sufficient for trainers and veterinarians to identify trends and adapt training accordingly. It completes the trainer's feeling about the form of each horse, the state of preparation and the understanding of possible future potential.
So, without from the need for a person dedicated to the analysis of data, a trainer can quickly obtain significant benefits with the use of tracking solutions such as EQUIMETRE.
In addition, by monitoring training and developing individuals own statistics over time, trainers can improve their understanding of the physiology of each of their horses. As part of this process it becomes possible to identify signs related to a risk of possible injury.
In our next articles, we will continue to introduce answers to the introduction's questions.