IN THE COMPANY OF JESSIE KIRBY, INTERNATIONAL JUNIOR DRESSAGE RIDER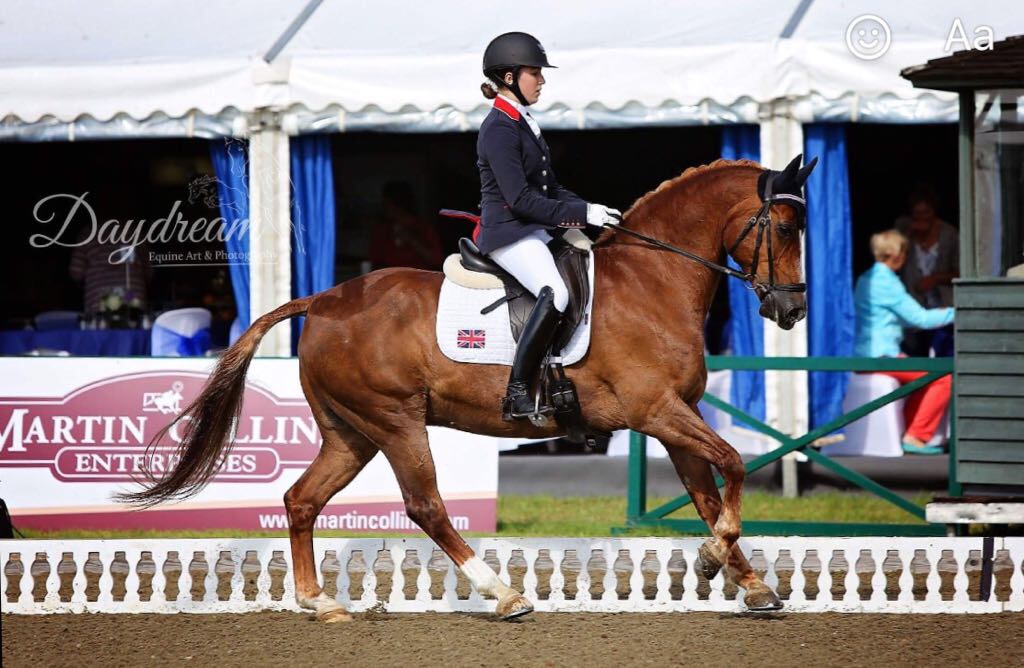 Wednesday afternoon and I jumped in my car having kindly been invited to visit Jessie Kirby Dressage. The Oxfordshire countryside rolled past very quickly, soon I found myself turning down a little lane and within seconds was turning into the yard. Another sat nav triumph!
Clambering out of the car, I could hear mugs clanking and a voice shouting "Is that you, Claire, fancy some tea?". Sticking my head in the door that the voice had come from, there was Tanya, Jessie's Mum standing over the kettle. With big smiles, I was welcomed into the most amazing and comfortable tack room. With hundreds of rosettes hanging from the rafters, saddles and bridles neatly in place, rugs folded carefully in slots along with boots, bandages and saddle pads, it was my idea of heaven. To finish it all, a table with comfy chairs in the middle of the room, was inviting me to just sit and pass the time of day.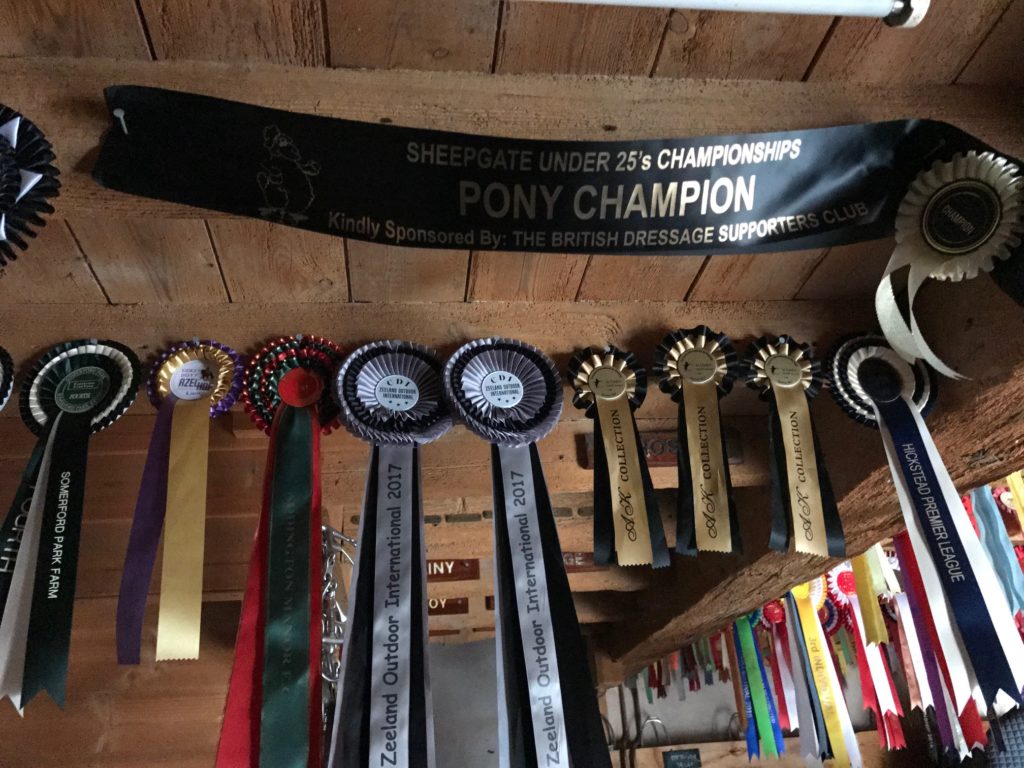 But no, we were off down the track on a quad, as Jessie was schooling Casper in the outdoor arena (Huntercombe's Hocus Pocus – what a great name!) a 5-year-old purchased from Charlotte Dujardin just over a year ago. Jessie has been competing Charlotte's pony this season to great heights but he has been returned and so it was decided to bring Casper back to fill the big hole in Jessie's heart. Under the watchful eye of Giles Carradine, I was treated to a free dressage lesson. Jessie has insisted that she wants to do the work herself and produce Casper up the grades. From where I was sitting, it looks like the partnership is set for great things to come as Casper matures and develops.
Enter Tom Hobday, family friend and star travelling groom when he can get time-off from his Boss, with the long-promised cup of tea, what bliss. It was then that I realised what a family affair this really is. This is a tight knit team that works together in every direction, every one has their area of responsibility yet they all help each other with the single purpose of helping Jessie to achieve her dream.
As we were sitting watching Jessie school, from out of the undergrowth and across the school came hurtling, two black furry balls. One of the black things launched itself onto Tanya's knee. It turned out to be Spud, fresh from flushing out a rabbit from a hole with a ton of sand on his face whilst the other black thing is Jake who is the chaser – even the Jack Russell's work together as a team!
Schooling session over, Casper and Jessie were straight over for their polos. I think Jessie was even more keen than Casper! Then we were off back up the track on the quad, Spud determined to bite the wheels off and when that didn't work my boot was fair game, to wash off Casper and get Ginge (Grayswood Orlando) ready for his schooling session.
Ginge had other ideas, he was far more interested in having his withers scratched by Tanya than being groomed ready for some work. You get the feeling that this dude has so much character it is ridiculous. Jessie put in some work grooming to get him school ready and then off down the track again to the 60 x 40 school, hidden by beautiful trees and enveloped in the silence of the countryside.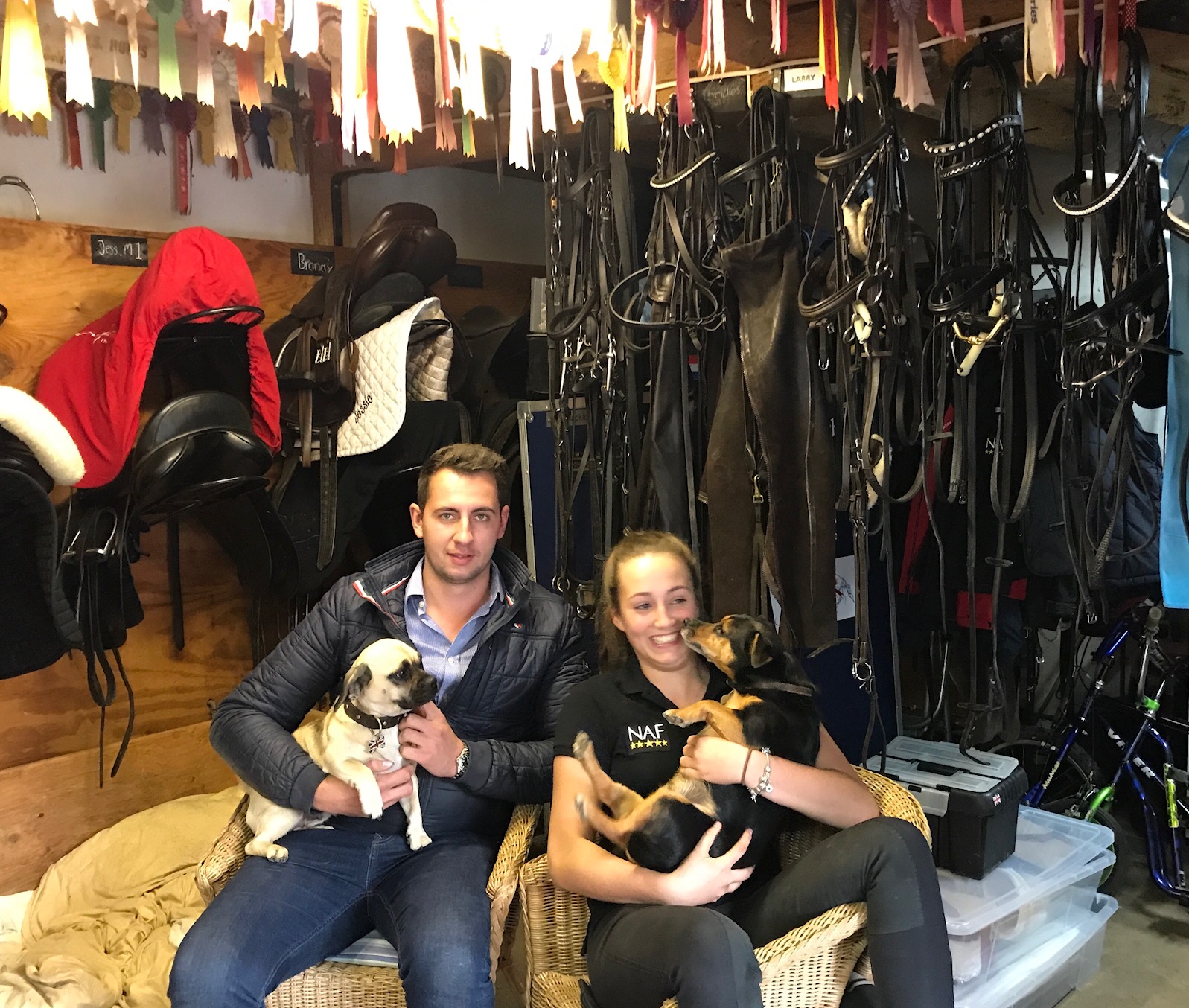 Yet another chance for me to get a few new ideas from Giles as he taught Jessie. Asking Tanya what breed Ginge is, I was startled to hear a cob. He doesn't look like any type of cob I have seen before as I was watching one-time changes, piaffe and passage happening before my eyes. Tanya laughed at my open mouth, seems that Charlotte (Dujardin) and Jessie have been teaching him some pretty clever moves!  Work done, Jessie and this time Ginge were over for their polo treats.
Back at the yard, Ginge was washed off and put back in his huge stable. We all retired to the tack room accompanied by Spud, Jake and Hattie, Tom and his partner's dog for another cup of tea and to talk to Jessie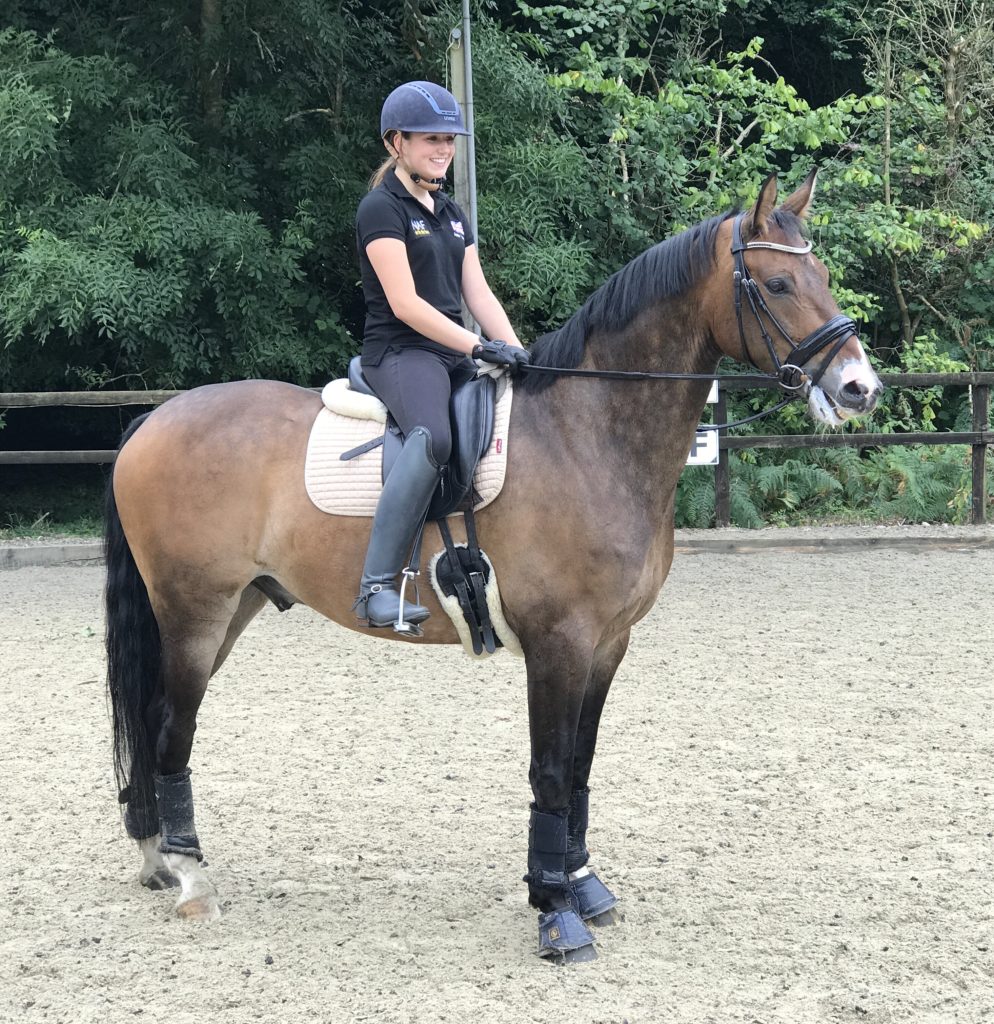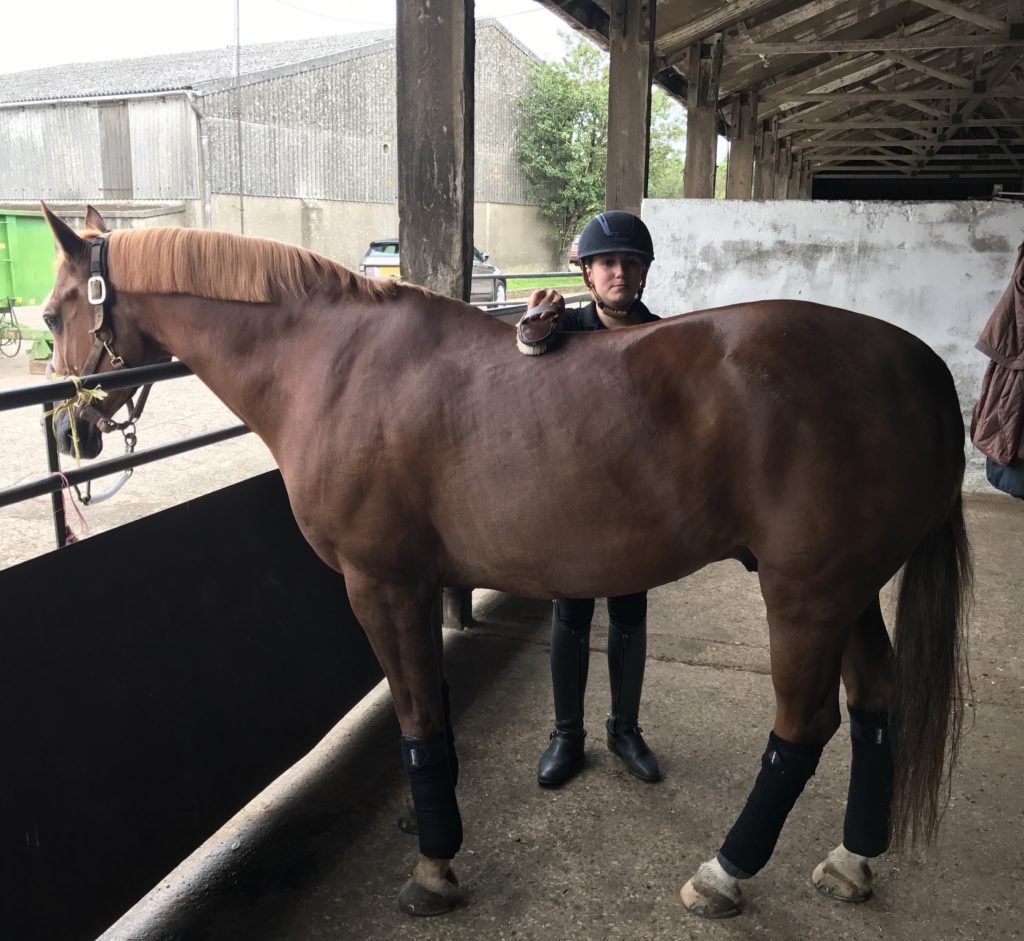 Name: Jessie Kirby
Discipline: Dressage
What has been your greatest achievement in your career so far:
It has to be being selected as a Reserve for the Pony Europeans this year on Cruz, Charlotte's pony. Everything was against us but we pushed through, I had not had him for very long at the time and it was his first International season.  It had been my dream since I was about 10 and to finally get so close in such a short time span, was pretty awesome.
What is your ultimate ambition(s):
I have the kid's dream of being at the Olympics representing my country though probably to go to all the big U25 International Grand Prix's is where I am looking in the short term. Then there is mine and Charlotte's inside game which is to beat her world record by the time I am the age she did it. It was a bit of a fun but I have worked out that I need to go up 1.15% every year to beat her record that she set at Olympia. So, this is also something that I am working hard on.  
Who was the horse that taught you the most and why:

Has to be Orlando (Ginge) because he is ten horses in one. In a music test he becomes very hot and is terrified and he behaves like a youngster who is really green so you have to ride him through it. Different atmospheres, different places, different pressures his mood changes in all of them and you have to ride him differently.  Sometimes it is go on, go on, kick, kick and give me more, other times not.  He's one of those pony's that people glance at and don't get excited because he's not all flashy but is so correct and able.  To get the marks, I have learnt that I have to be completely accurate and so on your timing with every little movement to gain every possible point.  He does all the Grand Prix movements as well, so I have to be careful not to let him do a change in FEI! I have to be very precise in everything that I do. I am very lucky, Giles (Carradine) has taught me since I was 7, we are a team and he has guided and taught me to get the best out of Ginge along with the help of Charlotte over the last year or so.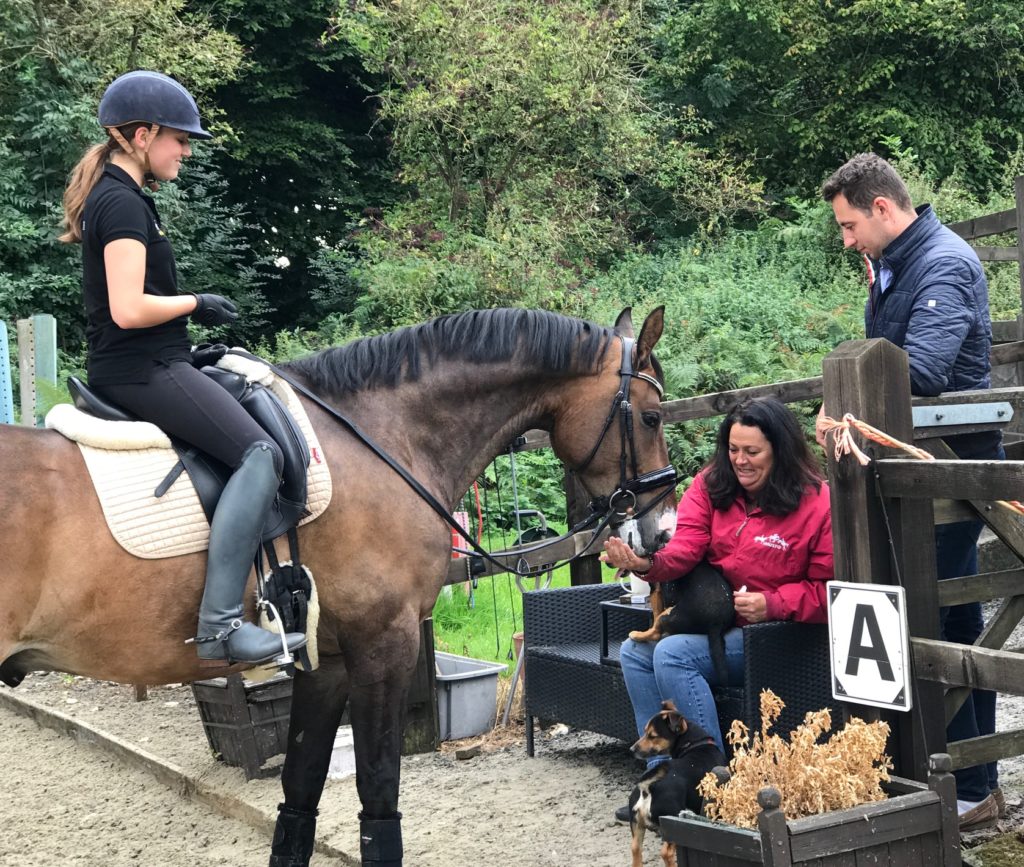 What has been your best experience competing:
I think it has to be going to all the big Internationals like Saumur, Joosland, Le Mans, Hagen with all the top riders. I have been placed at them all which all goes to make it extra special. Yes, it is all pretty awesome as all my idols have been there, Charlotte and Cathrine Dufour especially.
What has been your worst experience competing:
Hagen, it has to be Hagen. We arrived a day late as our lorry had broken down. Then when we finally got there, after an 18 hour journey, to find out shortly after getting on to stretch Cruz, before the trot up, that he had a sore foot. To go all the way there, and withdrawing him before the trot up was just totally gutting. To make matters worse, it was final selection for the Europeans that week too, everything seemed to be against us. It was just awful. On top of that, everyone was ill that week as there was a bug in Germany and all of us were extremely sick and of course I missed a week off school too. It was a horrid week and one I hope we will never have to repeat.
Team Kirby got totally involved with the Orscana discussion, so input has been accredited to the person who contributed!
Why do you use Orscana?
Jessie: It helps me adapt my routine before a competition before I would hack but now I don't.
Tanya: We have learnt what makes him (Ginge) more tired by reading the results from Orscana. What makes him lie down more. The quieter he is means he is resting more, so we have learnt that a hack takes a lot more out of him than a light stretch in the school, so we have adjusted our pre competition routine.
Jessie: When I get to a competition the big question is how long is my warm up going to be? I judge now from understanding how Ginge has been the night before. At Sheepgate I adjusted my warm-up, normally it would be 30 to 40 minutes before my first test but I only did 20 minutes and then for my second test I did 10 minutes where routinely it would be 20 minutes. Ginge is 15 now and needs to be looked after. Along with all the training and hard work, Orscana helped me to feel confident to change my warm-up routine and the result is that we won and he is the Sheepgate Under 25 Champion pony!
How do you use Orscana?

Tanya: A lot really. Rugging, monitoring movement, being able to make changes to routines with confidence, travelling…
Tom: Because we travel so much and stay at so many different places to be able to change his rug due to the place not just the weather. We've already stayed at 12 different places this year! Lots of different types of stables, they all so different, at home we pretty much know but it might be completely different at a show. The temperature, that's my favourite thing.
Tanya: How quickly he settles in after we have been travelling, we can now see….
Jessie: After I have ridden the first day, I can see how chilled he is.
Tanya: First thing Tom does when he gets home in the evening, is run down the yard in his suit with his phone, he taps away and then he comes in and tells us exactly what has been happening. It was quite funny when we first starting using it, Tom came running in saying he's been lying down all day! To be told no, the sensor was in the rug but not on Ginge, he didn't have his rug on all day!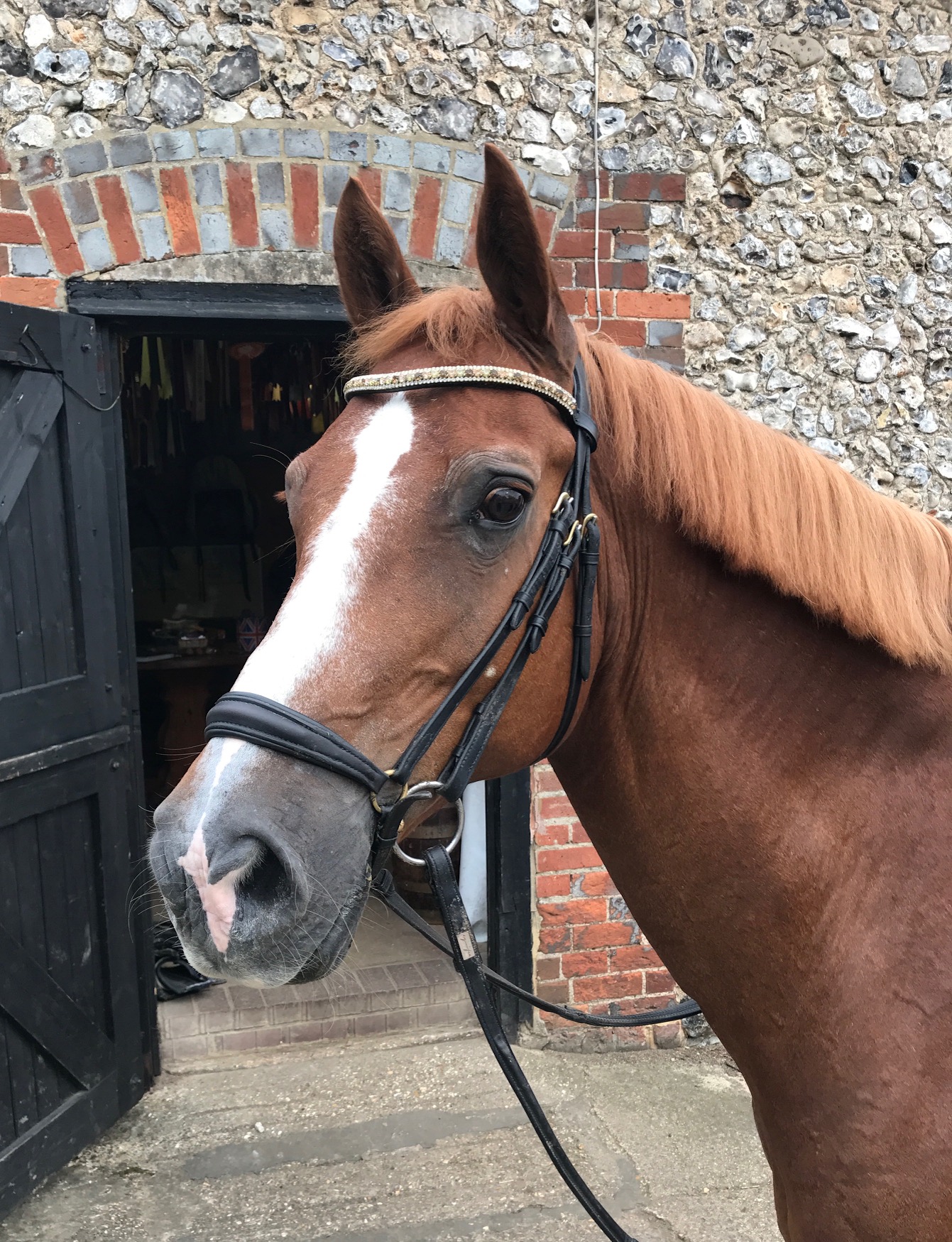 Tom: I have to admit to being a sceptic, I thought it was a gimmicky gadget, that was my view. I have gone from 0 to 10 out of 10.  If I was to have my own yard now, if I could have one for all of them, I would. I love the new features too, with the horses that I have looked after in the past, if their owners could have looked at their phones at 10 at night and see how comfortable their horses were in their stables, it would have made their year! If owners can see how well their horses are being looked after even from afar, that their horses are warm and comfortable that is what they want to know – Orscana delivers, its brilliant, I love this new feature.  I think it's about having peace of mind and a detailed insight into actually how the horse is under the rug, not just saying he's fine. I mean what else do you go on? Without Orscana, you can't really tell, it is pretty basic.
Tanya: It is a helpful aid. It is a tool that allows you to make adjustments to make sure that all the training and hard work pays off and that it comes together at the right time.
Jessie: Ginge has been peaking even more, more, more as I am able to adapt my routine to get better work.
Tom: It's like trying to run a marathon after a rough night's sleep. Then being cold all the way to the marathon, your limbs aren't warm enough, you're stiff and if you've had a no rest you won't perform. Orscana is providing the data and your job is in understanding and using the data to get the optimum performance.
Jessie: At the end of the day they are athletes!
Tom: It's a rung on the ladder. You know feeding, training, management this is another rung on the ladder, a new one that can make the difference between being placed or not. 0.7 of a mark can make a big difference!
Tanya: I think we can add to common sense with technology. In the modern world why not use every tool available to us? We use this in addition to common sense.
Tom: I have been out to check before and thought he (Ginge) was too warm and Jessie has been out and said he was fine. We've had heated discussions about what rugs we should put on. Orscana has stopped it all. It provides completely non-biased information, it's not the horse's Mum, or a groom's opinion – it's just this is what it is – accurate data.
Jessie: Its things like when you are on the European Rider short list, we have to all make big, big pony logs with loads of pages of detail. When you are away, you are given a hand picked groom but they don't know the horse they only have the log for the whole week to go on, which is one of the biggest and most important performances of your year…………..with Orscana, I now know how Ginge is handling a strange place.
Tom: Dressage horses are pampered and often over rugged. Orscana gives you fact. You have the data to give total direction.
Jessie: For me its about comfort, that the groom has done what needs to be done and I am happy with it as I can simply check from my phone.
Has Orscana influenced any changes in your routines?

Tom: Yes lots. Especially before a test we make decisions on whether we use a massage rug or not as we don't want Ginge too hot.
Tanya: Overheating has implications on energy and performance.
Tom: Many people have their routines and they are not going to break from it, it is their rungs on the ladder something they always do. People are not very good at breaking the routine. The adapting thing is very important, I believe…………
Jessie: I was a bit worried about breaking my routine but actually to have proof from Orscana has given me the confidence I needed to change my routine. I am one of these people that doesn't like changes but now I have the back-up to know I can actually change it. Orscana has helped a lot.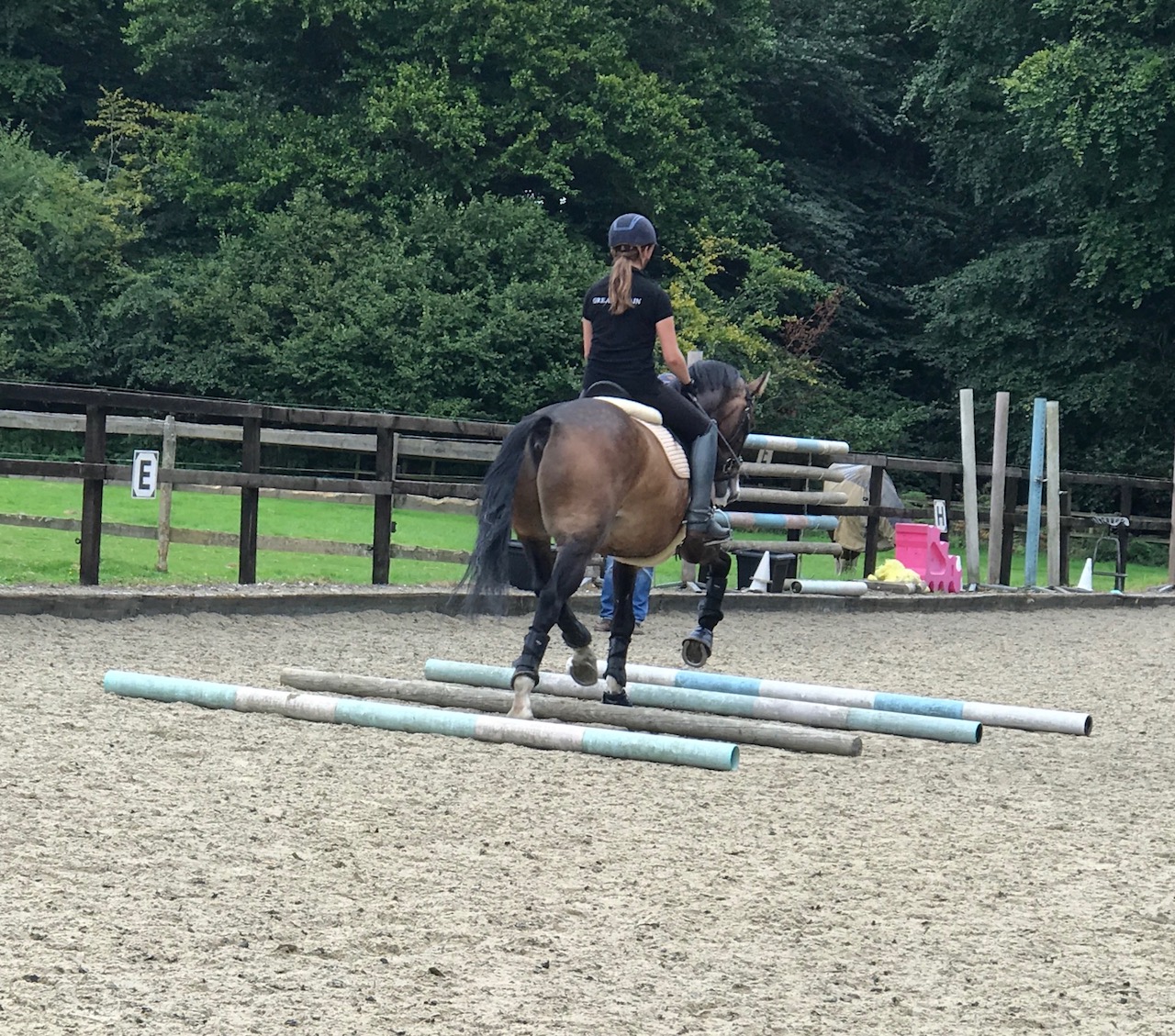 I think we could have continued talking well into the night in the comfy tack room but as it was, it was nearly 7o'clock and time for me to the hit the road.
What a team!
A young rider who is focussed on what she wants to achieve, who has produced her pony to an extraordinary level, who is determined to produce her own horse to get him all the way. Next in line is baby Huntercombe Burlesque, who won Elite status in August at BEF, she seems to have the horsepower lined up.
Combine that with the behind the scenes team of Tanya, Giles and Tom, I believe Jessie will achieve her ambitions and then some. 
The Arioneo team are proud to support Jessie and to be a small piece of her journey.