IN THE COMPANY OF TOM JACKSON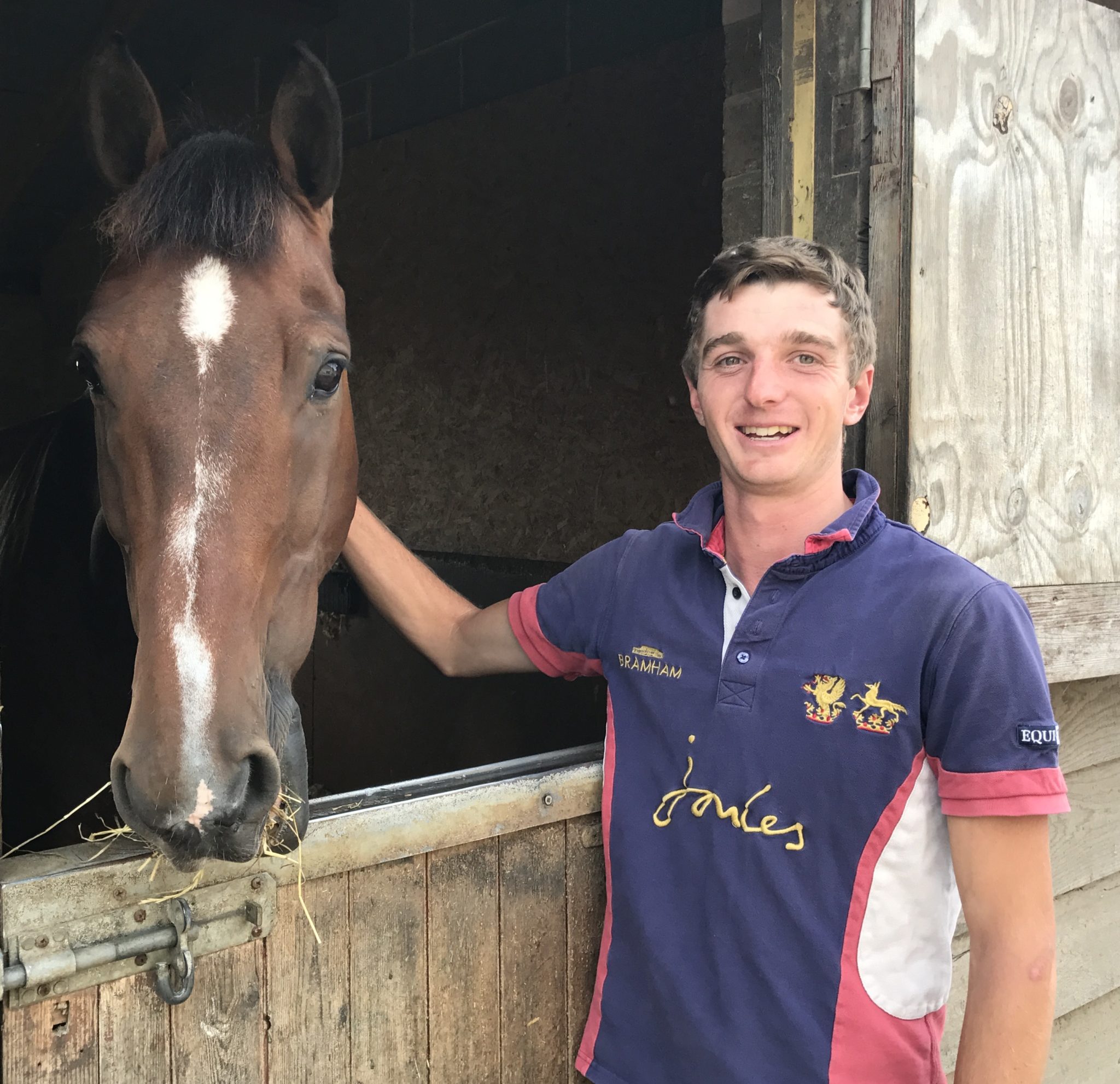 Normally when I am on this journey I am in holiday mode, trying not to be late for the train to take us, and the car, under the English Channel. The M25 was the usual car park around London and then onto the M20 direction Ashford. Driving along I whizzed past lots of horseboxes returning from the Dublin Horseshow going back to the Continent.
Kent is the Garden of England, turning off at Ashford and onto country lanes, I could see why, but I wasn't there to look at agriculture I was looking for Tom Jackson's yard. A couple of phone calls to Tom, as neither the SatNav nor Google maps got in right and I was there in front of some imposing wooden gates.
Tom had just returned from the gallops with the mares bound for Blenheim in September, ice boots on, being pampered and fussed over by Sabrina Pryor, Tom's partner and Head Groom, and her team.
Showing me round the yard, it is immediately apparent these horses love their life. The sense of calm and their relaxed attitude astounded me as I counted head after head in the boxes. Tom has plenty of grazing and believes in letting the horses lead as natural an existence as possible. The Advanced horses are turned out during the day and brought in at night whilst the Intermediate horses and youngsters are in during the day and out at night.
The Horses
King of the yard is Waltham's Fiddlers Find, the lovely Wesley, bought as a crib biting 4-year-old for Pony Club, he is now 14 and Tom's Badminton horse, going to Pau in the Autumn. An amazing tribute to the care, passion and attention to detail that Tom has lavished on him.
Advanced horses,  Dusty II and Carpa de Buisson Z (Katya) both 3 star mares bound for their next trip out to Blenheim. Courvoisier, Nate to his friends, will be in running at Waregem in Belgium. Dolly or Dowalda a lovely KWPN is almost an advanced horse and will be making her mark at the next opportunity.
Then there is a collection of Novice horses. Clonlaras Chacoa Princess, just Princess in the stable will be doing the CIC 1 star at Gatcombe, George (Giorgio D Over) is a 6 year old destined for Gatcombe too. Then we have the lovely Lillie (Grafennacht), who just wants to be loved! A very talented 5-year-old who is qualified for both Burghley and Osberton.
The youngsters, Millie (Star Dragon), Jeff (Patch Alley), Snoopy (Wishing Well) will all be fully fledged Novices by the end of the year.
Finally, there is 4-year-old in the field called Ricky, yet to have his show name chosen, as well as a few more but you get the picture of this busy but calm yard.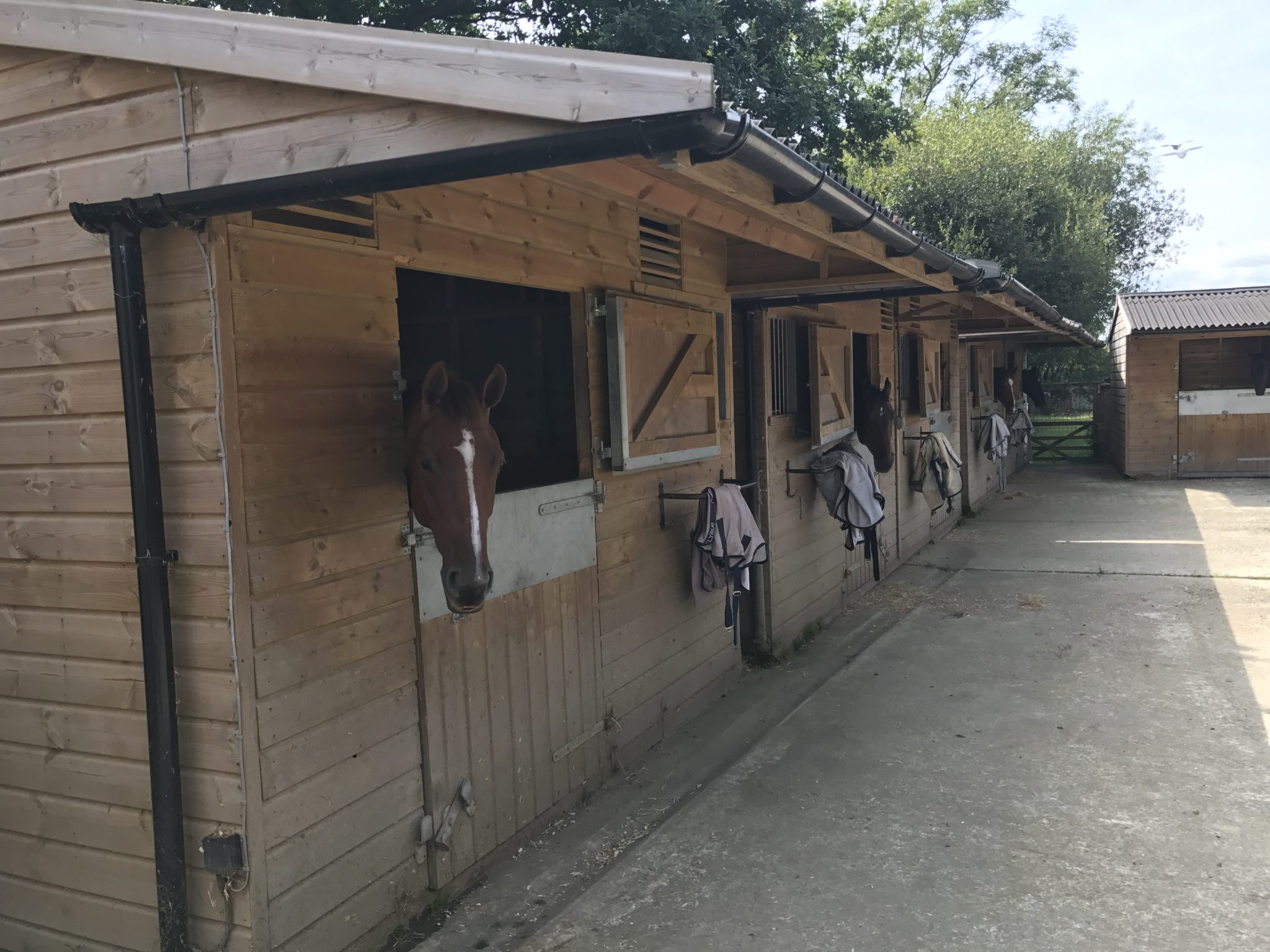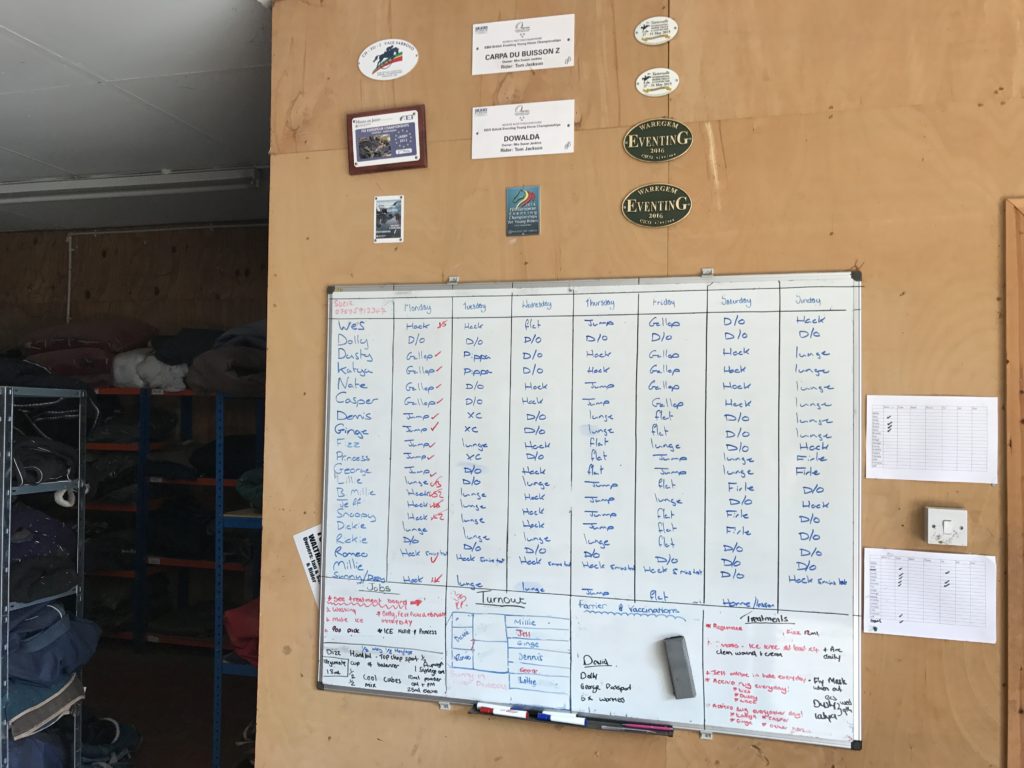 Running the yard

Walking through the barn, I see the buckets laid out for feeds, seems like hundreds and then I see the rug racks, piled high with neatly folded rugs, it really hit home to me how much work is involved in looking after all these horses, keeping them, healthy and event fit is a massive task.
Then I spy the weekly rota. Total precision.
Sabrina is the right hand behind this operation along with her team. They are meticulous in their care of each individual horse. Tom met Sabrina nearly 4 years ago and they have been together ever since. It is clear that they are a great partnership and I think the horses would all agree with me
How did you get to this point?
Asking Tom how he got to this point, it's easy to explain, he says he knew horses were his life. His Dad is a farrier and so horses have been around him since he was little whilst his Mum has always been in Human Relations. They supported him through Pony Club but at 16 he made his decision to leave school and pursue his career in Eventing. He spent 2 years with Sacha Hourigan learning the ropes and then spent a year at Dasset Eventing to complete his Eventing education.
In 2013, he took the gamble and set out on his own with Wes and a horse called King Kong Kenny, and took on a few more horses. This is where you see the steely determination and hard graft ethic of Tom coming through. In the early days, he would muck out his own  and then be at a local racing stables for 7am to ride out first lot, spending the day schooling other people's horses and teaching before returning home to ride his own. He says it was tough but with hard work, and if you are good enough, you can make it work, which is evidenced by the yard today.
Listening to his schedule, it really puts it in perspective. He leaves for Gatcombe on Wednesday, getting back Sunday night, then Tuesday they are off to Blenheim until the Sunday turning around to be on the boat to Waregen in Belgium on the Wednesday returning Sunday night and then the following Tuesday to Osberton not to mention the trip to Pau in October with Wes. It is exhausting just hearing the calendar!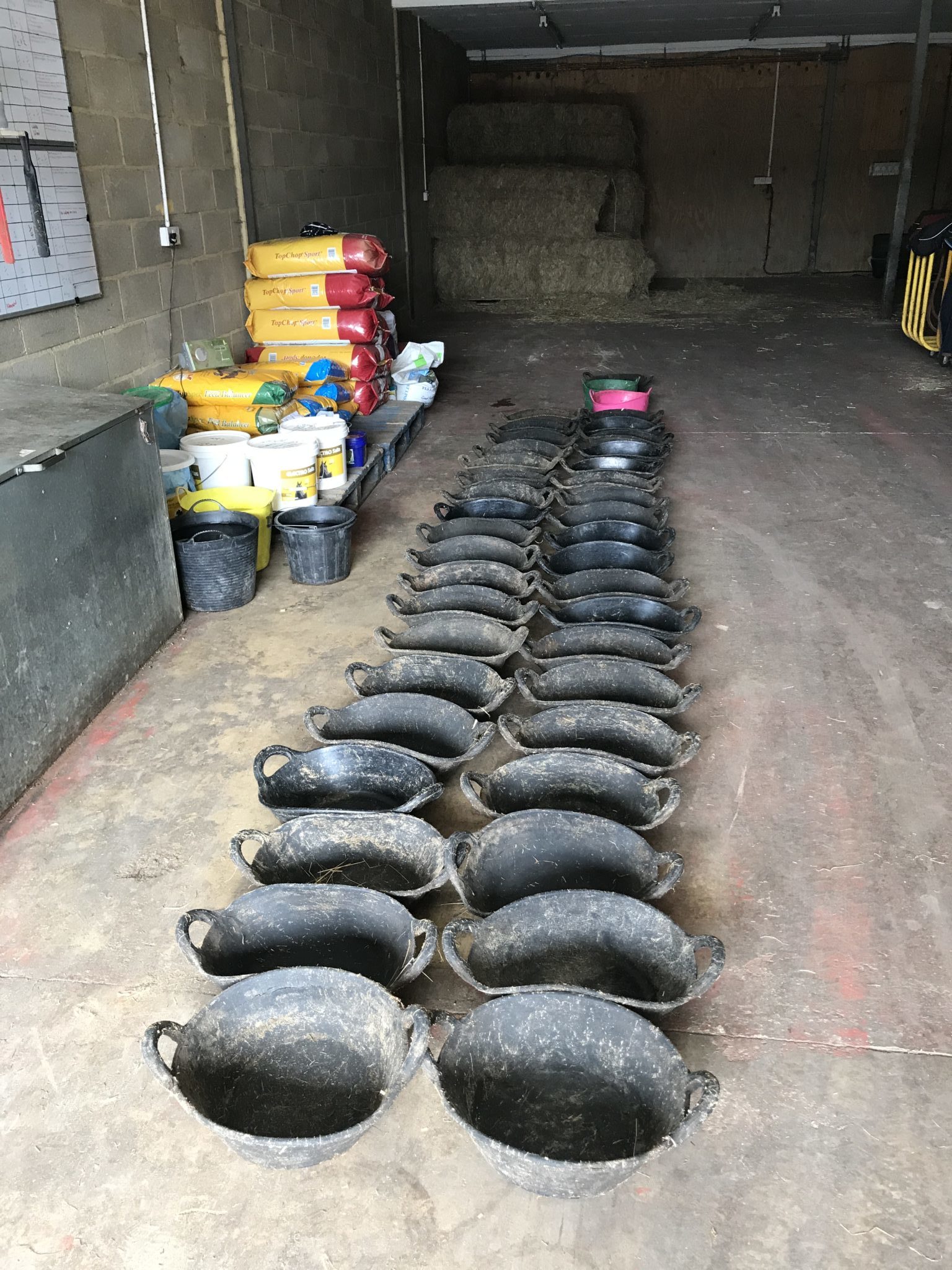 Any Advice?
Attention to detail is a huge piece of the success too. He says he has learnt to stay totally focussed and disciplined even when he is riding the 10th horse of the day. It is a skill he is constantly perfecting but remaining mentally strong and concentrated for long periods of time, Tom explains is key to getting the best out of each and every individual on his yard.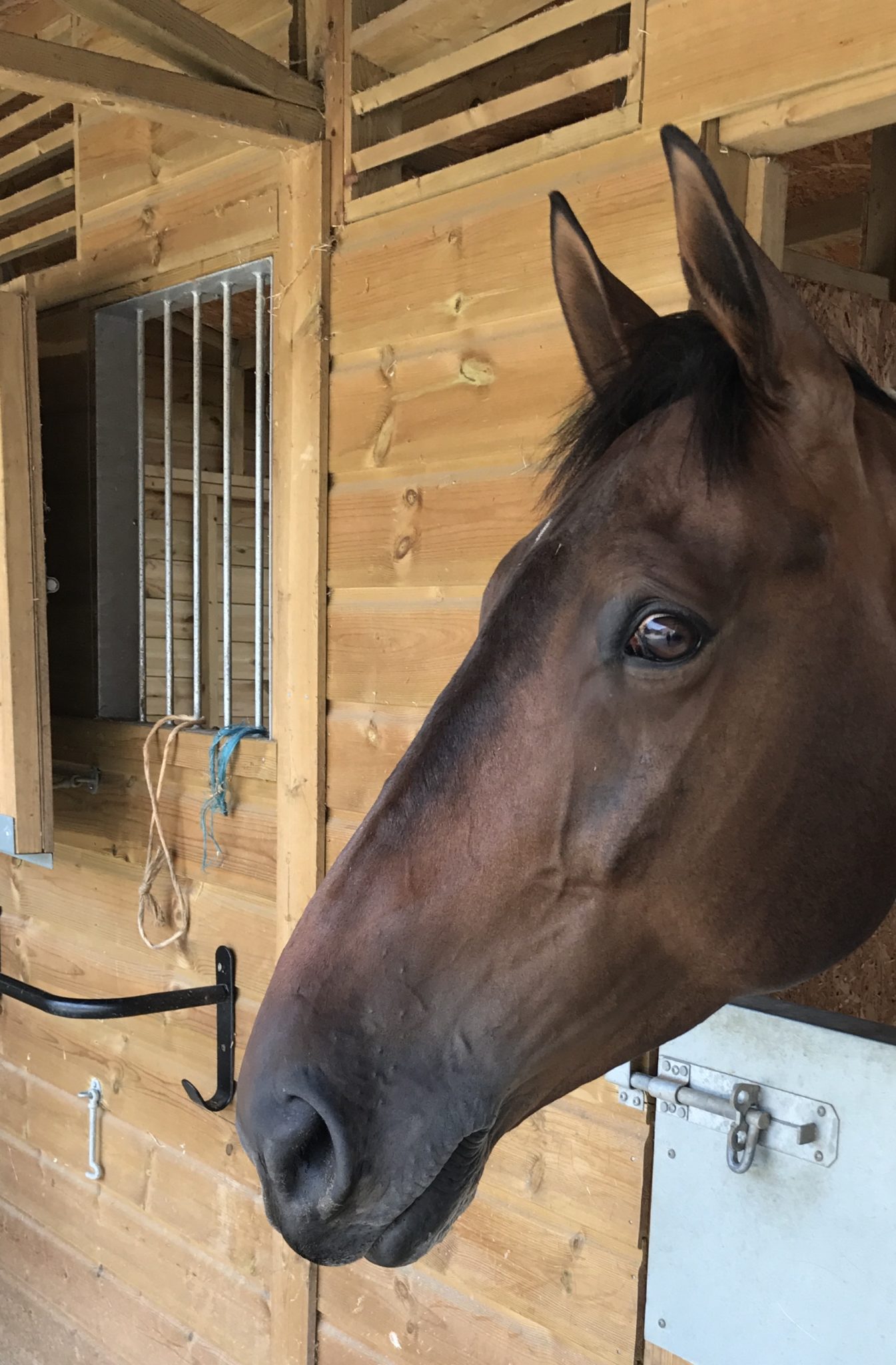 What has been your greatest achievement in your career so far:
It would have to be winning the Bramham Under 25 Championship, a couple of years ago on Wes. It's the biggest event I have won so far, one of the really famous 3 star events where all the great names, the well-respected and famous riders have won it before me.

What is your ultimate ambition(s):
My ultimate ambition is just to be the best. To be consistently on senior teams winning medals for my country, we'll see how that goes. Olympics, definitely. I am looking to build a string to be in contention for Tokyo. If you look at the average age of most senior team members, maybe I won't quite be there. However if I can build a team and go for it…….. I have got good young, strong horses here, in 3 years' time they will be really experienced, who knows, let's see what happens. It is definitely a goal and an ambition.
Who was the horse that taught you the most and why:
It has to be Wes, because we have done everything together for the first time. As he stepped up, I've stepped up. We've learnt everything together. He's been amazing through my entire career and he is such a good XC horse. I have been very lucky to have a horse like him as my first horse which has enabled me to do the things that I have done and gain the exposure that I have. He can be a bit tricky on the flat and can occasionally get a bit hot in a test but to be fair to him he has always been consistent and at 3 star level has been consistent with his marks. It has all been part of our learning process and one that I am lucky to continue to enjoy with him.
What has been your best experience competing:
Has to be winning Bramham, again. The sense of relief and achievement when you build up to a big competition like that. You're going to the event to win, there's a lot in the build-up, a lot of heartache and things not going quite right. For it all to come together, your horse to be on form and for you to do as you should, it doesn't always happen like that. I was fourth after dressage, the XC day it rained a lot and the course was proving to be tricky and tough, so it was perfect for Wes. He stormed round, he was amazing probably one of the best rides I have had! Which put us into the lead. Before everyone started jumping I think I had one fence in hand but by the time it was my turn I had 2 or 3 because the conditions were so bad, people were struggling to get clear rounds. I think we had 2 fences down but we managed to hold onto the lead.
What has been your worst experience competing:
Ah yes, at the Young Rider Europeans in Jardy. A similar scenario where I was the fourth team member, most people had completed the XC round, it was completely horrendous conditions, just torrential rain. I found out afterwards that the British Team officials had tried to get it cancelled, it was diabolical conditions. Wes flew, absolutely amazing, a great round despite the challenging conditions, I was chasing the clock. In my inexperience I came flying down to the last fence and tried to take off four strides out and ended up falling and knocking myself out. So thankfully, I can't remember too much of it. Wes had a few stitches but he was fine. It was a big blunder but something I have learnt from and will never do again! The problem was I had seen people go earlier in the day in better conditions, I thought that I was down on the clock and I didn't want to let the team down. As it was, at that point in time in the day I was actually doing quite well but I didn't get to the end of the course, which doesn't count obviously.
Why do you use Orscana?
I think it is a neat bit of kit. I am really interested in doing everything we can to get the best results and keep the horses in the best possible shape, so I think anything to help that and I am there.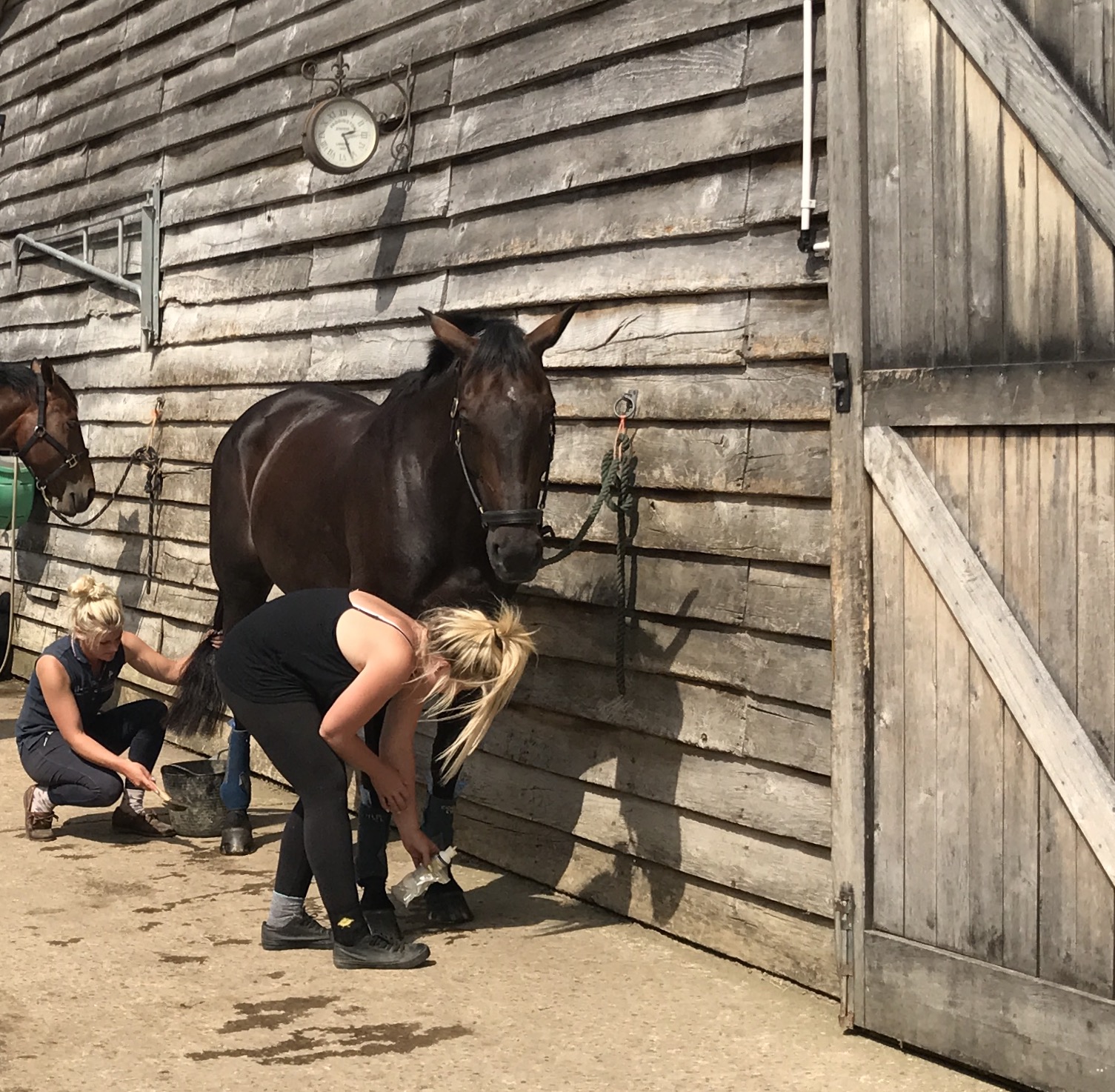 How do you use Orscana?
With the weather being nice, not using many rugs in the summer, we use it heavily for travelling and competitions to make sure that everything that can be is the same as it is here at home. So, it goes back to keeping them in the best possible shape.
It really depends on how you are doing it. I think in the Equine industry, to a degree,  we continue to rely on a large percentage of old techniques and how we have always done it. That is all fine and lots of it works really well but I think that the technology that we have in the rest of our lives, that is now starting to be applied to horses, we should be making the most of. I think Orscana is one of those things.
In winter we monitored one horse constantly and then tried to rug the rest from the data on Wes but they are all individuals and they vary.
This winter it will be different, they will all have Orscanas so there will no need to worry at all. As we live next to our horses, we can sit in the living room and check that they are all fine – we don't even have to go outside to check!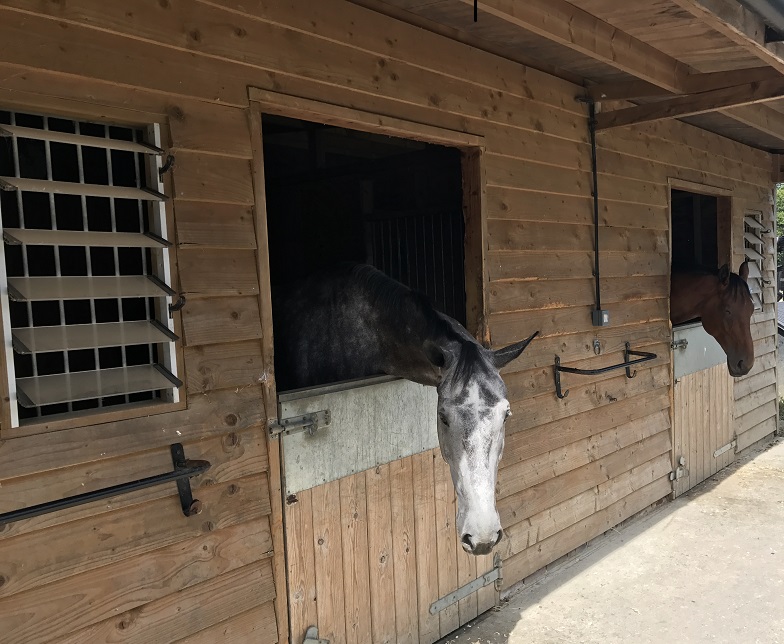 Has Orscana influenced any changes in your routines?
In what we do, yes. Especially in the winter we were finding we didn't need as many rugs or we were not having to change rugs as often which saves Sabrina and her team a lot of time. We noticed that when horses are clipped and they start getting more of a coat before you clip them again, it's being able to check and adjust those things to keep them as comfortable as possible.
Wandering back out to yard, we had the lovely Alfie in tow. He had been quietly asleep in his basket with his ever-present ball close to his side waiting for his Dad to finish talking. Tom tells me that Alfie knows more people out eventing than he does, seems he makes friends with everyone! Alfie decided the time was right and he had earnt a few ball throws after being quiet for so long!
In was field change over time, the youngsters were going out and the Advanced horses were coming in. I had stayed long enough to see Wes being brought in from the field so there was time to give him a pat and get a nuzzle in return.
On the way out, we stopped by the school, which is a large 60' x 30' arena and was able to ask about the combination of fences that were up and why they were set up that way.
Knowing how busy Tom is, he had a before dawn start to be at Pippa's for training, reluctantly it was time to climb back in the car and head out for the M25 car park!
I was left in no doubt this is a hardworking, knowledgeable yard, where the horses always come first. Their comfort and wellbeing paramount for both Tom and Sabrina. Tom is focussed on the riding partnership, providing each horse with dedication and commitment to give them the maximum chance of being the best they can be.